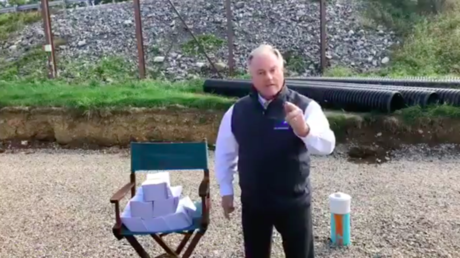 A Republican candidate for Pennsylvania governor has apologized for threatening to stomp on his opponent's face while wearing golf spikes after a Facebook video of his comments was met with outrage.
Scott Wagner, who is running against incumbent Democrat Tom Wolf, made the threat in a Facebook video on Friday that has since been deleted. Copies of the video have been shared on social media.
Full video of GOP candidate Scott Wagner threatening Gov. Tom Wolf: "You better put a catcher's mask on your face because I'm going to stomp all over your face with golf spikes." pic.twitter.com/Whh6TdsOXz

— Matt McDermott (@mattmfm) October 12, 2018
Wagner made the comments while standing in front of a billboard ad he said was paid for by Wolf and his "Democrat cronies" which highlighted lawsuits Wagner's trash hauling business had brought against customers for unpaid trash bills. He went on to tell Wolf he was "sick and tired" of negative ads put out about him.
"I want to puke when I see those ads," Wagner said.
READ MORE: New Yorker arrested for building bomb to blow himself up in DC on Election Day
In a later Facebook video, the candidate apologized for his comments, saying: "I may have chosen a poor metaphor. I shouldn't have said what I said." As for Wolf, he used his own Facebook page to encourage people to share if they thought Wagner "should not be the governor of Pennsylvania."
Wagner and Wolf have traded barbs as the November midterm election looms, with Real Clear Politics placing Wolf 16 points ahead of Wagner. The Republican's campaign spokesman, Andrew Romeo, said in a statement that Wagner's "comments were not to be taken literally."
READ MORE: 'Lee was a great general': Trump's Civil War remarks spark Twitter row
"He wanted them to be a metaphor for how he will approach the final stretch of the campaign," he added.
Meanwhile, Wolf's campaign communications director, Beth Melena, told CNN Wagner's words showed "he is unhinged and unfit for office," and added that "threats of violence have no place in society."
Social media users were, unsurprisingly, quick to question and criticize Wagner over his golf shoe-to-the-face video.
Batter up! pic.twitter.com/p8lub4u7mA

— Josh St. Ephenitch (@jjstls17) October 12, 2018
The @GOP will say that a video of Wagner very clearly saying threatening & violent things aimed at his opponent does not count as hard evidence that he said threatening & violent things towards his opponent.

— Anonymous White House Official (@dvorakoelling) October 12, 2018
Really, it would be a good time for an old fashioned Pennsylvania shun for this fellow.

— laterthanyouthink (@laterthanyouth1) October 12, 2018
Noone even wears "golf spikes" anymore. This isn't the most elegant metaphor for winning, either.

— Brian Lyman (@BDLyman) October 12, 2018
When did all these GOP Geriatrics become tough guys? pic.twitter.com/Mv4vLnbcIS

— Sho'Nuff Skywalker (@BreakandEnterTV) October 12, 2018
If you like this story, share it with a friend!
Via RT. This piece was reprinted by RINF Alternative News with permission or license.