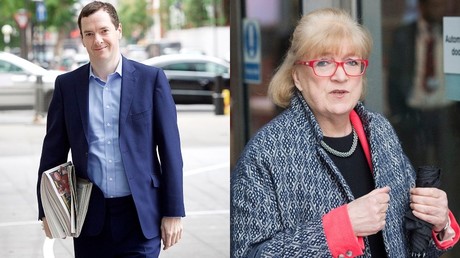 Former chancellor George Osborne received a brutal character assessment during a live BBC politics show as Guardian columnist Polly Toynbee told him 'your treatment of the poorest in the country has been despicable'.
Toynbee launched the savage tirade against Osborne, now editor of the Evening Standard and an advisor to the world's largest asset manager, BlackRock, by labelling him "the most right-wing chancellor we have ever had."
Osborne was making a rare TV appearance on the BBC's Newsnight politics show to give his thoughts on Monday's Budget. With fellow guests Novara Media's Ash Sarkar and ex-UKIP deputy chair Suzanne Evans looking on, Toynbee proceeded to take the opportunity to berate a shocked and bewildered-looking Osborne.
READ MORE: 'Break cosy club of British elite' to end revolving door among politics, media & business say Labour
He became the target of Toynbee's wrath when presenter Evan Davis claimed the Guardian journalist was "closer" to Osborne politically than two thirds of the Tory party.
The journalist told Davis: "It is unthinkable that you could say such a thing. This man has done such harm and damage to this country, he has been the most right-wing chancellor we've ever had."
Toynbee then went on to denounce Osborne's treatment of the poor, presiding over £12 billion worth of benefits cuts – claiming he had made everyone hate people on benefits – even though the great majority are "in work."
She said: "He's taken from the poorest in benefits, and then abused them with endless talk about people with their blinds down, trying to make everyone hate anyone on benefits. Despite the fact that the great majority of them – as you well know – are in work."
"Your treatment of the poorest people in this country has been despicable," Toynbee added.
READ MORE: Shock as up to 220,000 disabled people will have to wait until end of summer for benefit payments
Defending his record, a slightly dazed Osborne replied: "We were left in a desperate economic and political situation by the Labour government she supported, and cleaned up the mess but not to your satisfaction."
The Evening Standard editor might have thought that was the end of Toynbee's harsh words but she then took a pop at his newspaper's campaign for poor children in London, accusing him of "hypocrisy" – alluding to the claim he was chief architect of driving children into poverty.
Earlier this month, it emerged that during his time as chancellor, senior civil servants warned him that maintaining the 1% public sector pay cap would force children into poverty.
Analysis from the Resolution Foundation, a left-leaning social policy think tank, shows that Chancellor Philip Hammond's Budget will benefit rich families 14 times more than the poor, despite him insisting that austerity was "coming to an end."
Think your friends would be interested? Share this story!
Subscribe to RT newsletter to get stories the mainstream media won't tell you.
Via RT. This piece was reprinted by RINF Alternative News with permission or license.