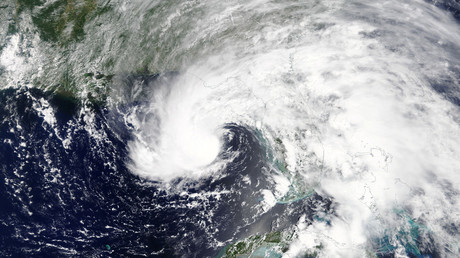 North Carolina has ordered mandatory evacuations for anyone south of Lake Tahoma Dam after a landslide compromised the integrity of the structure.
Storm Alberto – the first named storm of the Atlantic hurricane season – brought several mudslides to the region following heavy rainfall. The Lake Tahoma dam is now in "imminent danger" of failure, according to authorities who are warning residents in McDowell County to immediately move to higher ground.
The National Weather Service declared a flash flood emergency and is reiterating that this is "a life threatening situation." The weather agency is also warning that there is an increased risk of further mudslides.
MCDOWELL COUNTY UPDATE: A landslide has comprised the integrity of Lake Tahoma Dam. MANDATORY EVACUATIONS underway from the Dam at Lake Shore Dr to Lake Tahoma Rd (NC 80) to the confluence of the Catawba River near Resistoflex Rd and Riverside Park. ACT NOW TO PRESERVE YOUR LIFE!

— NWS GSP (@NWSGSP) May 30, 2018
It's POURING in McDowell County right now. School is cancelled for today. Mandatory evacuations in place for those who live downstream from Lake Tahoma Dam. Shelters at Glenwood Baptist Church & YMCA in Marion. @wcnc ☔️ pic.twitter.com/LBDCG6Nsp9

— Ariel Plasencia (@ariel_plasencia) May 30, 2018
McDowell County Emergency Management is asking people to be patient as it assesses the danger. State inspectors will evaluate the risk during daylight hours. Until then all residents living below Lake Tahoma are urged to evacuate.
Shelters have been set up in local churches and a YMCA. An interstate highway was closed for a time Tuesday and schools will not open Wednesday.
READ MORE:Cubans cheat death as bridge over floodwaters crumbles into raging rapids below (VIDEOS) 
Storm Alberto has killed at least four people in Cuba and two in Florida as it brought heavy rains, winds and floodwater over the Caribbean and eastern US.
Via RT. This piece was reprinted by RINF Alternative News with permission or license.