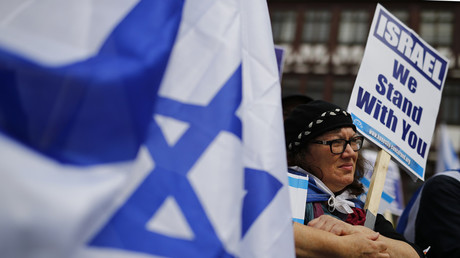 Social media users have called on state legislators to pass a hate crime law in Indiana, after Nazi symbols were discovered on a wall at the refuse disposal shed wall of a synagogue in Hamilton County, Indiana.
Sometime before Saturday morning, unknown individual(s) spray-painted a pair of Nazi flags and iron cross graffiti on two walls of a brick shed where trash cans are stored at the property of Congregation Shaarey Tefilla in Carmel, Indiana.
After the synagogue notified the police about the defacement, the Jewish Community Relations Council and the Jewish Federation of Greater Indianapolis have been working to make sure that "appropriate measures" are taken following the incident.
"These images that represent the ideas that led to those [Holocaust] crimes are not reflective of what our City stands for," Mayor Jim Brainard said in a statement on Sunday, confirming that police are investigating the graffiti incident.
As members of the synagogue expressed disgust over the Nazi symbols, Vice President Mike Pence tweeted that he too was "sickened and appalled by the cowardly act of vandalism." He was joined by a chorus of politicians condemning the incident. The Governor of Indiana Eric Holcomb has taken the case under his wing, urging police to work with the FBI to bring those responsible to be treated with "the fullest extent of our law".
Some social media users found that call to be unconvincing, not least because Indiana remains one of only five states in the US that does not have hate crime laws. Therefore, prosecuting someone for vandalism might not be appropriate, given the scope of the crime.
After the most recent bill to address hate crimes was dropped from the state legislature's agenda in January this year, Indiana is not bound to address the issue until at least 2019.
"Thank you for your statements, Governor. But 'the fullest extent of our law does not include a hate-crimes statute. When will you stand up for that? Forty-five other states have hate-crimes laws, but Indiana does not. Will you work to remedy?" one Twitter user pleaded.
"Indiana needs a hate crimes law because as a member of the LGBT I have been targeted for my lifestyle and that's not a hoax Instead of attacking each other," noted another social media user.
"Hate is not Hoosier. If you want to help advocate for a hate crime law in Indiana, let's talk. We need you," added another online advocate.
"It is infuriating to see this type of hatred in our community. Indiana remains 1 of 5 states without a Hate Crimes law – it is time for a change. We owe it to our neighbors."
Like this story? Share it with a friend!
Via RT. This piece was reprinted by RINF Alternative News with permission or license.