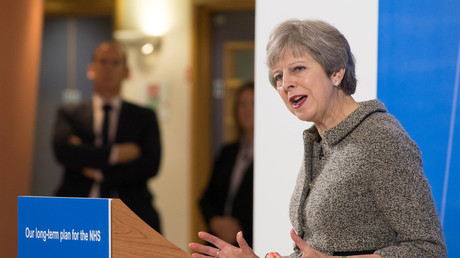 Theresa May's jovial yet awkward interview with her ex-head of broadcasting, where the PM promised that the NHS would receive £20bn a year extra by 2024, has been overshadowed by claims of a 'black hole' in her funding plans.
In an interview with Tom Swarbrick, May's ex-head of broadcasting in Downing street on LBC radio station, the prime minister announced that the the UK will be able to spend "around £600 million a week" more on the NHS by 2024, in what ministers are calling a "70th birthday present".
In what has delighted Brexiteers, such as Boris Johnson and left Remainers, like Anna Soubry angered, May said that "People may remember seeing a figure on the side of a bus, £350 million pounds extra a week for the NHS in cash."
Going on to say: "Actually, I'm announcing means that in 2023/24, there will be around £600 million a week in cash more, going into the NHS."
The Prime Minister announced the increase in funding, which will see the £114bn-a-year budget rise by an average of over 3% a year for the next five years – still well below the average NHS annual real growth rate during its history – 4% according to the Nuffield Trust.
So where will this extra cash for the NHS be coming from? Well the PM told her former adviser it would come from a combination of a "Brexit dividend", so that the UK can "take advantage" of the fact that "we've got money we're no longer sending to the European Union". She also intimated that there would be rises in income tax to help fund additional resources, as she said "we as a country will contribute a bit more".
READ MORE: 'Unconscionably cruel': Home Office must grant my epileptic son's medical cannabis, urges mum
The very idea of a Brexit dividend was quickly pounced on by various economists, political commentators and even Tory MPs on Social media. Paul Johnson from the Institute of Fiscal Studies (IFS), whose research is often quoted by the UK government, told the BBC's Sunday Politics show that "there isn't a Brexit dividend".
Tory remain-rebel Dr Sarah Wollaston MP was seemingly not impressed with May's words on LBC. She said: "The Brexit dividend tosh was expected but treats the public as fools. Sad to see Govt slide to populist arguments rather than evidence on such an important issue."
The Brexit dividend tosh was expected but treats the public as fools. Sad to see Govt slide to populist arguments rather than evidence on such an important issue. This will make it harder to have a rational debate about the 'who & how' of funding & sharing this fairly.

— Sarah Wollaston MP (@sarahwollaston) June 17, 2018
On the question of raising income tax to help finance extra funds for the NHS budget, May was not able to explicitly say who would bear the brunt of these increases. However, the Times claim that government officials have since said that "we're going to have to have a conversation about tax."
The Times report on Monday that the PM is facing a £25bn 'black hole' in her plans to fund the NHS after ministers were unable to reach an agreement on where all the resources would be coming from, before May's announcement.
The government has yet to confirm a plan for finding up to £11bn of the money promised yesterday, with the PM telling Swarbrick that tax rises are on the way in the autumn budget.
READ MORE: Steroid abuse in Wales a 'time bomb' for men's health issues
A further £1.25bn will be allocated each year to tackle the huge NHS pension deficits, say government officials. The deal was concluded late on Friday afternoon by May, Jeremy Hunt, the health secretary, Philip Hammond, the chancellor, and Simon Stevens, chief executive of NHS England.
However, sources close to the Times said that the meeting ended without agreement on where key amounts of large finances would come from. "By the end of the meeting, some sources of funding had been more heavily pencilled in than others," a ministerial source said.
Omar Baggili, RT Journalist
Like this story? Share it with a friend!
Via RT. This piece was reprinted by RINF Alternative News with permission or license.