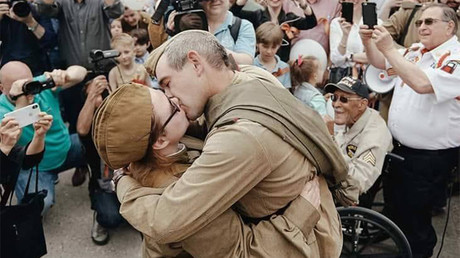 Thousands took part in the Immortal Regiment march in New York to honor the Soviet war heroes who defeated the Nazis. One man took the opportunity to propose to his girlfriend, who feels as strongly about the event as he does.
"I would like you to become my wife," Rob Bell said as he got down on one knee in the street, and his girlfriend, Trisha DeArmond, said "yes."
The people around them applauded the pair, who were sporting World War II-era Soviet military uniforms, and chanted "Gor'ko," a call to kiss usually heard at Russian weddings. Rob and Trisha were happy to oblige.
"I wanted it to be really something memorable," Bell told RT, saying that such an inspired event as the Immortal Regiment provided the "perfect conditions" for his proposal. The Immortal Regiment was launched in Russia a decade ago and has since been picked up internationally as millions of people across the globe march on Victory Day, carrying portraits of relatives who fought in World War II.
The American couple has been involved in reenactments of WWII events for nearly a decade now. They are part of the 193rd Rifle Division Re-Enactment Group, which is dedicated to a Soviet unit that took on the Nazis in Stalingrad and in other battles.
DeArmond said that she was caught off guard by the proposal, but it was "great" that it happened during the march, which they both "felt very strongly about." The proposal is "definitely something that will live on forever," she added.
The couple say it is regrettable that many Americans know little about World War II and the contribution of the USSR to the victory against the Nazis, which cost the country more than 26 million lives. At historical reenactment events, "I have to explain that Soviet soldiers weren't bad guys during WWII," Bell said. His fiancée agreed, saying "there is more to the story than we know" in the US. She hopes their hobby will help educate their compatriots about humanity's bloodiest conflict.
If you like this story, share it with a friend!
Via RT. This piece was reprinted by RINF Alternative News with permission or license.