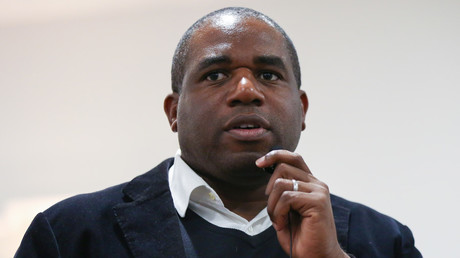 Labour MP David Lammy is being ridiculed on Twitter after he claimed in an on-air BBC interview that police had "vanished" from his area, despite a yellow-jacketed copper standing right behind him.
The high-profile MP for Tottenham appeared on the BBC on Friday morning to talk about the violent crime plaguing London. He said: "It feels like neighborhood policing has vanished, it's not around you. We haven't seen police in a while and I've been here for quite a while now."
Lammy seems to not notice the policeman standing in the background, but the public was quick to pick it up and make a mockery of it on Twitter.
Making excuses for failing Labour London Mayor – David Lammy tells the BBC.
"We haven't seen a police while I've been here"

Must have been taking lessons from Mr Corbyn – the master of not seeing things right in front of him… pic.twitter.com/pg3Oqdu7tV

— Amandeep SinghBhogal (@AmandeepBhogal) April 5, 2018
But Lammy didn't find the incident that amusing, as he tweeted: "Apparently #DavidLammy is trending. Very funny I know. But let's please be serious for a minute 4 young men have been murdered in my constituency. Can we ask where the Prime Minister and Home Secretary are hiding?
"It shouldn't require me to go on TV to try and get their attention."
He then went a step further in saying:
FFS a boy has been killed why be so petty? £1bn cuts to Met budget. No neighbourhood policing. I am speaking on behalf of communities who don't see any police on their streets until after a murder. Make cheap points if you want I don't care and will stand up for my constituents. https://t.co/ND4EMyCTCv

— David Lammy (@DavidLammy) April 5, 2018
If you like this story, share it with a friend!
Via RT. This piece was reprinted by RINF Alternative News with permission or license.