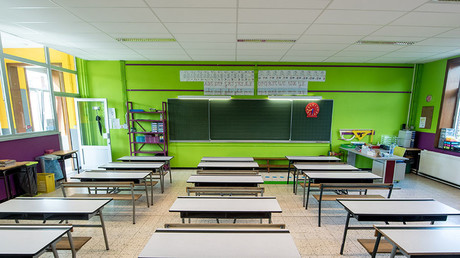 Widespread teacher absences forced schools across Kentucky to close Friday as educators protested against the passing of a controversial pension bill. The move comes after massive teacher strikes in neighboring West Virginia.
At least eight school districts across the state were forced to close their doors due to the absences. The teachers are protesting against the passage of legislation which overhauls pension rules for educators.
The Republican-controlled Kentucky House and Senate passed the bill in quick succession Thursday.
The Kentucky Education Association said the hasty manner of the bill's passage was "shameful" as it did not give the public an opportunity to comment on the legislation.
"This kind of backroom dealing is shameful. Pitting local government interests against the interests of current and future educators is cowardly," the association said. The shutdown comes after hundreds of teachers gathered at Kentucky's capitol building Thursday to voice their extreme dissatisfaction. The furious crowd chanted "shame on you" at lawmakers.
Schools officials said Friday they couldn't get enough substitutes to cover all their classes due to the mass absences. "A lot of sick days are going to be used today," Patricia Lea Collins of the Pike County school system explained. Under Kentucky law public employees do not have the right to strike.
The school shutdown sparked a huge reaction on social media with supporters of teachers widely sharing the #120Strong on Twitter. The message called for all 120 counties in Kentucky to close their schools.
READ MORE: Last-ditch deal ends West Virginia teachers' 9-day strike
Earlier this month West Virginia's biggest teachers' strike in 30 years was finally ended when their demands were finally met. The nine-day industrial action received widespread public support. Dale Lee, president of the West Virginia Education Association, told RT that he had "never seen the education community so united."
Like this story? Share it with a friend!
Via RT. This piece was reprinted by RINF Alternative News with permission or license.