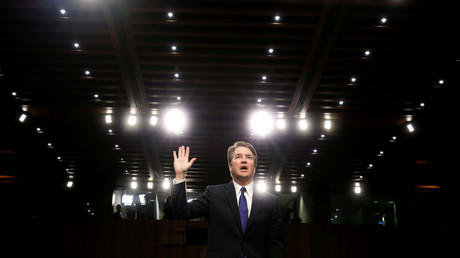 The Senate Judiciary Committee has scheduled a vote on the nomination of Brett Kavanaugh to the US Supreme Court for Friday, a day after it is supposed to hear from both Kavanaugh and the woman accusing him of sexual misconduct.
On Thursday, the committee is supposed to hear from both the judge and Christine Blasey Ford, a California professor who says Kavanaugh attempted to rape her at a high school party sometime in the summer of 1982. It is not clear whether Ford will show up to testify, however.
The vote was initially scheduled for Monday the 24th, until Senator Chuck Grassley (R-Iowa) agreed to postpone it for the sake of hearing from Ford. Democrats on the committee, as well as Ford's attorneys, demanded a FBI investigation into her claims. They also wanted to further postpone the hearing so Ford could drive from California to Washington, as she was reportedly afraid of airplanes, and that Kavanaugh testify ahead of Ford, which is at best unusual.
On Tuesday, Senator Dianne Feinstein (D-California), who sat on Ford's allegations until after the Kavanaugh hearings were done, sought to further delay the hearing because another woman – Kavanaugh's classmate from Yale – told The New Yorker he may have inappropriately exposed himself to her at a college party.
Deborah Ramirez, however, declined to appear before the Senate, where she would have to make a statement on penalty of perjury.
"There is no reason to delay the hearing any further," Grassley wrote in a letter to Feinstein on Tuesday. Doing so would be unfair to both Dr. Ford and Judge Kavanaugh, who have both faced threats and intimidation against both themselves and their families, Grassley added.
Furthermore, Grassley said he was "unclear" why the claims by Ramirez had any bearing on Ford's testimony. "In fact, the obvious connection between the two claims is that Senate Democrats hid both allegations of misconduct from the Committee and the public," he added.
"As you know, false statements to the press are not subject to criminal penalty, but false statements to Congress are," Grassley noted.
DETAILS TO FOLLOW
Via RT. This piece was reprinted by RINF Alternative News with permission or license.