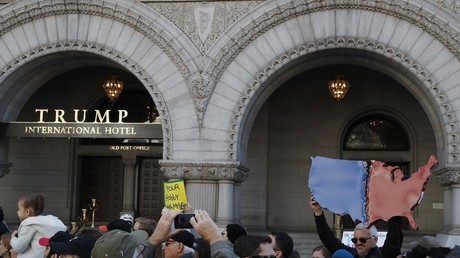 The 200 congressional Democrats have standing to sue US President Donald Trump over what they say are violations of the US Constitution's Emoluments Clause, a federal judge in Washington, DC has ruled.
At the heart of the dispute is a broadly defined prohibition from Article I, Section 9, Clause 8 of the Constitution on accepting "any present, Emolument, Office, or Title, of any kind whatever, from any King, Prince, or foreign State."
Democrats have argued that foreign governments doing any business whatsoever with the Trump International Hotel in Washington, DC constitutes prohibited "emoluments," for which the president would have to ask permission from Congress
READ MORE: Spending at Trump properties raise questions about conflicts of interest – report
Led by Senator Richard Blumenthal (D-Connecticut) and Representative Jerrold Nadler (D-New York), the opposition lawmakers filed the lawsuit in June of 2017. The Department of Justice filed a request for it to be dismissed. But, on Friday, Judge Emmet Sullivan ruled that the plaintiffs have standing to proceed.
For the purpose of determining standing, Sullivan wrote, "the Court must accept as true the allegations that the President has accepted prohibited foreign emoluments without seeking the consent of Congress."
The Trump International Hotel is located on Pennsylvania Avenue, just a few blocks away from the White House, in the refurbished Old Post Office building that was leased to Trump by the government in 2013, long before he ran for president.
Trump refused to place his business empire into a blind trust upon his election, handing it off instead to his sons. Democrats have claimed that he continues to profit from his business holdings, including the hotel in the nation's capital.
READ MORE: CREW's Emoluments lawsuit against Trump dismissed for lack of standing
The first emoluments lawsuit was filed in January 2017, just three days after Trump was sworn in, by Citizens for Ethics and Responsibility in Washington (CREW), an outfit once run by Clinton operative David Brock and described in his "Resistance" strategy as a key player in bringing down Trump through legal filings. CREW chairman Norm Eisen cheered the Friday ruling.
CREW's case was thrown out for lack of standing in December 2017, however, when a federal judge in New York described the issue as a political one that needs to be settled by Congress, not the courts.
"As the only political branch with the power to consent to violations of the Foreign Emoluments Clause, Congress is the appropriate body to determine whether, and to what extent, Defendant's conduct unlawfully infringes on that power," Judge George Daniels wrote at the time.
Congressional Democrats are seeking a court order compelling Trump to notify Congress whenever he is offered an emolument, so they could vote on whether to allow him to accept it. In addition to challenging their standing, the DOJ has moved to dismiss the suit on three more grounds, including the argument that seeking relief through such an injunction is unconstitutional.
Think your friends would be interested? Share this story!
Via RT. This piece was reprinted by RINF Alternative News with permission or license.