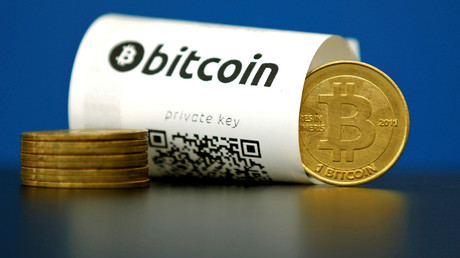 A court in Miami, Florida threw out criminal charges against a man being tried for illegally selling Bitcoin, stating the virtual currency cannot be classified as money.
The case resulting in Monday's decision was being closely monitored by tech, finance, and legal circles in light of the growing popularity of Bitcoin in recent years, according to the Miami Herald.
The defendant, Michell Espinoza from Miami Beach, was charged with illegally selling and laundering $1,500 worth of the virtual currency in a deal with customers that turned out to be undercover police who said they wanted to use Bitcoin to buy stolen credit card numbers.
READ MORE: 2 gunmen rob NYC man of $1,100 worth of bitcoins
Miami-Dade Circuit Judge Teresa Mary Pooler ruled that Bitcoin was not "tangible wealth" and "cannot be hidden under a mattress like cash and gold bars," adding that it was not backed by any bank or government.
"The court is not an expert in economics however, it is very clear, even to someone with limited knowledge in the area, the Bitcoin has a long way to go before it [is] the equivalent of money," Pooler wrote in the judgment.
She also stated that Florida law, which says an individual can be charged with money laundering if they engage in a financial transaction that could "promote" illegal activity, is too vague to apply to Bitcoin.
"This court is unwilling to punish a man for selling his property to another, when his actions fall under a statute that is so vaguely written that even legal professionals have difficulty finding a singular meaning," she wrote.
Bitcoin can be spent anonymously in some cases and also purchased and sold on exchanges with many currencies, including the US dollar.
READ MORE: Bitcoin beat dollar in 2015
Though it has gained popularity with merchants that use the currency for legitimate transactions, authorities have raised concerns about it being used on the anonymous black market.
Previously, it had been used to traffic drugs in the infamous Silk Road network, which has now been shut down.
READ MORE: Silk Road rogues: Federal agents arrested for theft, extortion, fraud
The currency is regulated through services such as CoinBank, whose system is similar to that of PayPal, which allows people to sell and use Bitcoins.
Via RT. This piece was reprinted by RINF Alternative News with permission or license.