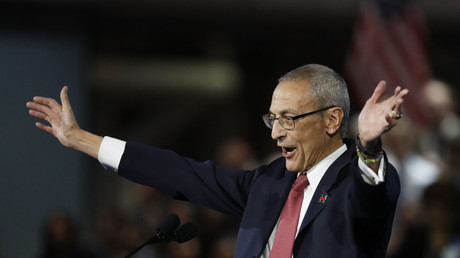 John Podesta, the former chairman of Hillary Clinton's presidential campaign whose private emails were infamously published by WikiLeaks, seems to have pivoted into a new arena: Climate change punditry.
Readers may recall that WikiLeaks founder Julian Assange claimed "a 14-year-old kid could have hacked" Podesta's emails because he had once used the word "password" as his computer password and responded to phishing emails.
Now, the newly self-styled expert on climate change has taken aim at the Trump administration for its "politicization of climate science" in the United States. The article comes just days after President Donald Trump dismissed a report on the dangers of climate change which was produced by his own administration. Responding to the report, Trump told journalists: "I don't believe it."



Also on rt.com
Climate change threatens extinction but politicians only care about next election – Ken Livingstone




If the politicization of climate science is something Podesta is worried about, perhaps he should have let someone else write the Guardian article. After all, Clinton's former campaign chairman is hardly the most apolitical person to be wheeled out to convince the doubters and deniers of global warming.
Podesta didn't stop at the Guardian article, though. He has also been asked to deliver a keynote speech at an upcoming European Parliament event about what the EU can do to combat a warming climate. Why the NGO organizing the event thought a discredited former Clinton aide (and non-expert on the subject of climate change) would be a convincing keynote speaker is anyone's guess.
Indeed, it may be the involvement of political figures like Podesta lending their voice to the cause that is making many doubters recoil from the climate debate in the first place.
Climate change action advocate Podesta also seems to have changed his tune a bit on the whole topic since Trump took office. Back when Clinton still had a shot at the White House, Podesta branded her primary challenger Bernie Sanders as a "doofus" for saying that the heavily-criticized Paris Climate Accord was not bold enough.
Of course, if Podesta's efforts to change minds on climate change fail, he could always just blame Russia. That's what he conveniently did when his leaked emails embarrassingly revealed that he believed his boss, Clinton, had some "terrible instincts."
READ MORE: Scientists have new plan to fight global warming: Dimming the sun
Former President Barack Obama also weighed into the global warming debate in a recent speech, claiming that the reason the US had failed to properly address the issue was because the country is "still confused, blind, shrouded with hate, anger, racism – mommy issues."
Like this story? Share it with a friend!
Via RT. This piece was reprinted by RINF Alternative News with permission or license.