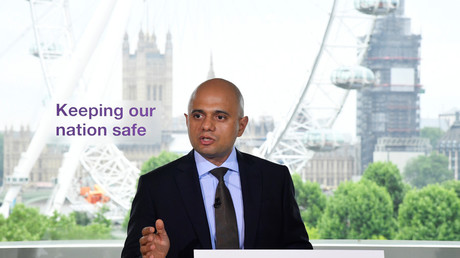 The UK's new anti-terror strategy, which sees MI5 share info on 20,000 people – suspected of having extremist sympathies – with local authorities, "could create a real climate of suspicion," activist Peter Tatchell has told RT.
Tatchell was reacting to new anti-terror plans announced by Home Secretary Sajid Javid in London. The proposals include sharing details of around 20,000 people who have been investigated but are not active suspects, eliminating safe spaces where potential terrorists can spread their views and plan attacks; faster alerts for suspicious purchases of chemicals; and improving security at crowded places.
The campaigner welcomed the government's goal of trying to safeguard security but was worried about how and who MI5 shared sensitive information with.
He told RT UK's Bill Dod: "It's concerning they'll share information on suspected extremists with local police, local councils and other agencies, none of whom are security experts.
READ MORE: Jihadis and far-right extremists to be targeted in UK's renewed counter-terrorism strategy
"He's not saying how they should use this information or how they can safeguard to make sure it doesn't get leaked out to the wider public."
He went on to claim that "it could create a real climate of suspicion and perhaps even false accusations."
Javid announced that security and intelligence services were in the process of handing over details of 500 live operations, with 3000 'subjects of interest' and 20,000 people that have been investigated, and who may still pose a threat to UK citizens.
Like this story? Share it with a friend!
Via RT. This piece was reprinted by RINF Alternative News with permission or license.