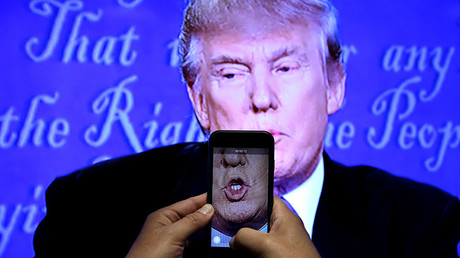 Hillary Clinton's comments about Donald Trump's lack of preparedness probably won't change things for the second presidential debate. Trump has no intention of doing anything differently, blaming a faulty microphone for his recent performance.
Trump's off-the-cuff approach to Monday's first presidential debate was a departure from the usual political discourse. Instead of well-rehearsed, carefully articulated policies laden with subtle jabs at his opponent, he opted to communicate in a slightly less composed fashion. 
However, he plans to stay the course for next month's debate by not preparing any more than he did for the first. Instead, he hopes that the debate committee will have managed to fix his malfunctioning microphone. He told the New York Times on Friday that he "spent 50 percent of my thought process" dealing with the problematic microphone at his lectern.
That may come as news to his advisers, who on Wednesday told the Times that Trump would be drilled on important answers and counterattacks to Clinton's strategies.
He may have had a point, however. The Commission on Presidential Debates confirmed that there "were issues regarding Donald Trump's audio that affected the sound level in the debate hall."
On Friday, Trump told the New York Times he would begin to prepare for the October 9 debate as early as this weekend. But between Monday and Friday, he bemoaned the microphone problems.
Immediately after the debate, he told reporters, "they gave me a defective mic. Did you notice that? My mic was defective within the room. I wonder, was that on purpose? Was that on purpose? But I had a mic that didn't work properly."
Later he was interviewed by Fox and Friends, where he made similar claims, saying: "My microphone was terrible."
"I wonder, was it set up that way on purpose?" he continued, "My microphone, in the room they couldn't hear me, you know, it was going on and off. Which isn't exactly great. I wonder if it was set up that way, but it was terrible."
Clinton dismissed his claims that the microphone was to blame for some of his performance at the debating, telling reporters: "Anybody who complains about the microphone is not having a good night."
It is difficult to know the extent of Trump's microphone problems as it did not affect the television broadcast, NPR reported.
Microphone problems or not, Trump is confident in his first debate performance. At an Iowa rally on Wednesday, he told the crowd he won by "a landslide" and that Clinton did not do "well in the debate at all."
Via RT. This piece was reprinted by RINF Alternative News with permission or license.