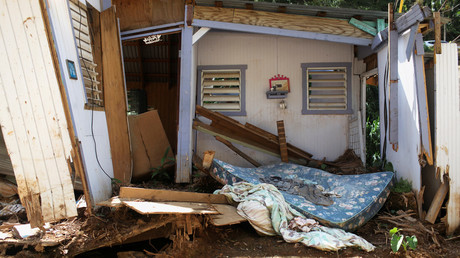 The official death toll in Puerto Rico from Hurricane Maria stands at 64, but researchers at Harvard University estimate the real figure is more than 4,600.
Around a third of those deaths are believed to derive from  a lack of medical care arising from power outages and broken infrastructure, according to the new study.
READ MORE: EPA warns Puerto Rico against water from toxic wells
The study, published this month in the New England Journal of Medicine, surveyed around 3,300 people randomly chosen from households across the Caribbean island. Respondents were asked about displacement, loss of infrastructure and causes of death. Mortality rates were then compared with the same period for the previous year. From the data, researchers estimate that there was a total of 4,645 more deaths than officially estimated. The US territory is home to more than 3 million people
"The mortality rate remained high through the end of December 2017, and one third of the deaths were attributed to delayed or interrupted health care. Hurricane-related migration was substantial," the report reads.
US President Donald Trump had been full of praise for his administration's efforts to bring aid to parts of the country badly affected by the barrage of Hurricanes Harvey, Maria and Irma between September and December last year.
During a visit to the island in October, Trump told emergency workers they should be "very proud" the death toll did not match that of "a real catastrophe" like Hurricane Katrina in 2005. It is estimated that more than 1,800 fatalities can be attributed to Hurricane Katrina.
READ MORE: 'You can be very proud': Trump praises hurricane relief in Puerto Rico
In an interview with Al Jazeera last month, Carmen Yulin Cruz, mayor of the capital San Juan, said she blamed Trump for the inefficiency of the relief effort. "The aftermath of Maria, if I had to summarise it, has contributed to a social meltdown," said Cruz. "Suicide rates have gone up … Still, about 30 percent of the population does not have electricity."
Trump previously attacked Cruz for his criticism of the US federal response, saying that the problems the island was encountering were down to local officials not being able to get their workers to help, adding that they wanted "everything to be done for them."
…Such poor leadership ability by the Mayor of San Juan, and others in Puerto Rico, who are not able to get their workers to help. They….

— Donald J. Trump (@realDonaldTrump) September 30, 2017
…want everything to be done for them when it should be a community effort. 10,000 Federal workers now on Island doing a fantastic job.

— Donald J. Trump (@realDonaldTrump) September 30, 2017
Think your friends would be interested? Share this story!
Via RT. This piece was reprinted by RINF Alternative News with permission or license.