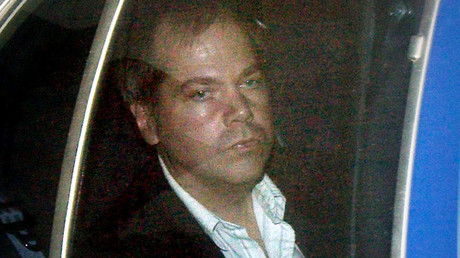 John Hinckley Jr, the man who attempted to assassinate Ronald Reagan in order to impress actor Jodie Foster, was released from a psychiatric facility Saturday morning, 35 years after his 15 minutes of fame.
On March 30, 1981, the Texas native fired six shots outside the Hilton Hotel in Washington, DC, 69 days into Reagan's first term.
One of the bullets ricocheted off the presidential limousine and hit the new commander-in-chief in the chest below his left arm, puncturing a lung.
Hinckley also wounded police officer Thomas Delahanty, Secret Service agent Timothy McCarthy, and, most severely, press secretary James Brady.
The 41-year-old Illinois native ended up paralyzed and became a staunch advocate for gun control, particularly as the namesake for the landmark 1993 Handgun Violence Prevention Act, better known as "the Brady Bill."
His death was ruled a homicide when he passed away in 2014, 33 years after he was shot.
Hinckley was found not guilty by reason of insanity in 1982, in part because he described the crime as "the greatest love offering in the history of the world," in honor of Jodie Foster.
His obsession with the young actor started after he saw the 1976 film "Taxi Driver," in which she plays an underage prostitute who the main character, Travis Bickle, tries to rescue before attempting to shoot a fictional US senator.
In July, a judge decided Hinkley is not a danger to himself or others and ruled that he could be released to live with his 90-year-old mother in Williamsburg, Virginia.
He will be able to live alone after one year.
The attempted assassin had already visited Williamsburg in preparation for his release and has to follow a number of rules now that he is free including mandatory therapy and a monthly check-in at a mental facility.
Hinckley has been diagnosed with an array of mental health issues, including schizophrenia and delusional disorder.
He will be allowed to go online, but can't search for details about his crime or set up social media accounts without permission.
The son of Bush family friend and oil executive John Hinckley Sr also began to stalk President Jimmy Carter when he was in office and was able to get close to him.
Once Reagan was elected, Hinckley turned his attention to the new president, despite telling his parents he thought he would be good for the country.
Reagan wasn't wearing a bulletproof vest when he was shot, and neither was his Secret Service team, since the president only planned to be in public while making his way from the Hilton to his car.
Via RT. This piece was reprinted by RINF Alternative News with permission or license.