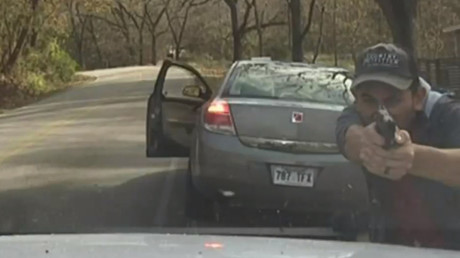 Arkansas police have released footage of the moment one of their officers cheated death when a motorist opened fire without warning during a routine traffic stop
Suspect Luis Cobos Cenobio allegedly opened fire with a handgun on Washington County Cpl. Brett Thompson after the police officer pulled him over for a traffic violation.
Footage of the near fatal shootout has now been released by Washington County Police, showing how the gunman suddenly opened fire with a barrage of bullets, puncturing several holes in the cop's car.
According to the police, Thompson stopped the two-passenger vehicle as it was travelling down Steele Road, Tontitown. However, when the officer went to approach the car the driver "immediately open his car door and began shooting."
READ MORE: Gunfight across the street from Russian Foreign Ministry caught on CCTV (GRAPHIC VIDEO)
The incident, which lasted just 53 seconds, saw Thompson return fire as he retreated to cover. A wounded Cenobio escaped the scene but was later arrested on November 11 in Springdale, Arkansas, and taken to hospital. The 29-year-old now faces the prospect of life behind bars if convicted of an attempted capital murder charge.
READ MORE: Police dashcam footage shows dramatic shootout at routine traffic stop (VIDEO)
The Washington County Police Department says bodycam and dashcam footage of the terrifying incident has been published after video of the shootout was posted online by a bystander.
Images of the arresting officer's vehicle show numerous bullet holes with the windows completely shattered from the suspect's sudden salvo.
"We are so thankful Corporal Thompson, all other officers who were involved, as well as citizens who were in the areas of the incident, were unharmed," an official police statement read.
If you like this story, share it with a friend!
Via RT. This piece was reprinted by RINF Alternative News with permission or license.