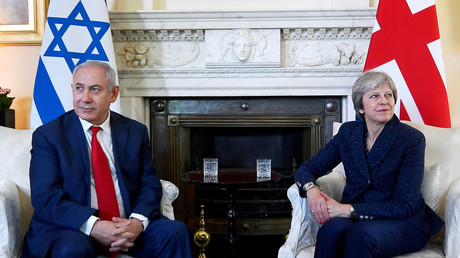 Guardian cartoonist Steve Bell has strenuously denied his picture, depicting Israeli PM Benjamin Netanyahu, UK PM Theresa May, and an image of murdered Palestinian medic Razan Al-Najjar burning in a fireplace, is anti-Semitic.
The cartoon was spiked by the Guardian's editorial staff. After which Bell wrote an angrily-worded email to his boss and Guardian editor, Katharine Viner, after claims from colleagues that his cartoon played on anti-Semitic tropes, report Buzzfeed.
I just warned on my blog about the growing mystification of anti-semitism. Now the Guardian's Steve Bell has had this cartoon pulled amid accusations of anti-semitism. What cartoonist is not going to reach the conclusion that it's safer to avoid all cartoons critical of Israel pic.twitter.com/yEAIgqqGPm

— Jonathan Cook (@Jonathan_K_Cook) June 7, 2018
The cartoonist seemed particularly incensed at claims that his illustration could have implied "'wood-burning stoves', 'ovens', 'holocaust', or any other Nazi-related nonsense." The complaints were in relation to the background of the piece, which is dominated by the figure of the 21-year-old Palestinian medic who was recently shot dead by Israeli Defense Forces, while tending to injured protesters in Southern Gaza.
Of the supposed 'oven', he writes: "It's a fireplace, in front of which VIP visitors to Downing Street are always pictured, and the figure of Razan al-Najjar is burning in the grate. It's a widely known photograph of her, becoming iconic across the Arab world and the burning is of course symbolic."
Adding: "She's dead, she was shot and killed by the IDF while doing her job as a medic."
The contentious cartoon was replaced with a sketch of Brexit Secretary David Davis on a unicorn, with pigs flying in the House of Commons, satirizing the day's Brexit shenanigans on the issue of the "backstop". The cartoon was unsigned.
Bell told Viner in his email that his cartoon was "sensitive" but "certainly contains no anti-Semitic tropes," vehemently insisting that it should have been published, but he was willing to recreate it to avoid the criticism the cartoon was receiving in its current form.
"It should have been published as it stands, but if you are still obdurate that it should remain unpublished, then I feel a duty to my subject to try and salvage something from this fiasco, and will resubmit it to you later this morning in a form that may get around some of the criticisms (to my mind wholly unjustified) that were made last night."
READ MORE: May offers meek condemnation of Gaza killings as Netanyahu visits No 10
Netanyahu has been holding talks with Theresa May as part of his European charm offensive, primarily to drum up support for his opposition to the Iran deal. The Israeli PM had to deal with difficult questioning from Tory peer, Lord Howard, who is of Jewish faith, asking him: "Why could you not use rubber bullets? Why could you – if, in extremis, you had to use live ammunition – not shoot them in the legs? Why did you have to kill them?"
Netanyahu replied: "Hamas wanted the Jews to kill more. Their goal was to have as many casualties. Our goal was to minimize casualties."
At the time of publishing, The Guardian has not issued a response.
Omar Baggili, RT Journalist
Like this story? Share it with a friend!
Via RT. This piece was reprinted by RINF Alternative News with permission or license.