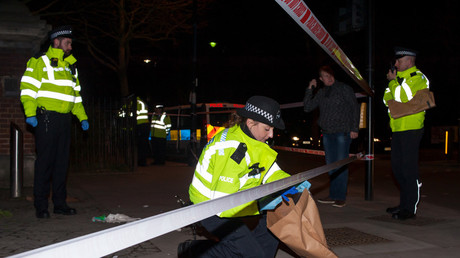 Gang members who publish music videos online that incite violence on UK streets will be considered terrorist suspects by the police, in an attempt to stem the skyrocketing murder rates.
It will mean that police officers will not have to prove that a specific video or post on social media is linked to a particular act of violence, if proposed measures in consultation with the Crown Prosecution Service are given the go-ahead.
The new proposal to help tackle street crime would mirror existing terrorism laws, in which a link does not need to be proven between an individual inciting another person to commit an act of terrorism, and a particular attack.
READ MORE: Four men stabbed in London's five-day knife frenzy, latest killed in broad daylight
Under current laws, police require evidence to link such online activity to certain crimes.
Commander Jim Stokley, Scotland Yard's most senior officer, told The Times: "there isn't specific legislation" for gangs.
"Clearly we can't use terrorism legislation [but] in consultation with the CPS, we have found some existing legislation which we are going to use."
'Drill' music, a form of rap that often uses violent content, has been highlighted by Cressida Dick, the Metropolitan Police commissioner, for having "a terrible effect" on gang violence.
Earlier in the week, it was revealed that online video platform YouTube withdrew more than 30 music videos at the request of the Met Police after the force linked them with gang violence. Such a move would require judicial approval.
It comes as the Telegraph reports that more than 60 murder investigations have been opened in London since the beginning of the year.
According to the Office for National Statistics (ONS) figures, there has been a 44 percent rise in the murder rate in London over the past year. Some of these cases have been linked to 'drill' music on social media.
Like this story? Share it with a friend!
Via RT. This piece was reprinted by RINF Alternative News with permission or license.