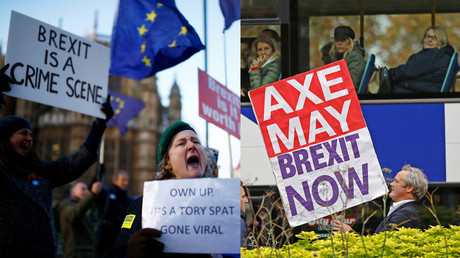 The BBC has come under fire after a Brexit-backing pastor who staunchly defended Prime Minister Theresa May's Brexit deal on Monday's Newsnight program was revealed to also be a paid actor.
Lynn, also known as Marina, Hayter, dressed in full dog-collar garb, urged viewers to "have faith in the government" while being rather deferential to the assembled politicians. "They know far more about what's going on than we do," Hayter said, as she gestured towards the participating MPs.
Hayter belongs to a tiny organization called the Seeds for Wealth Ministries, which boasts 77 followers on Facebook at time of writing.
READ MORE: 'Flying pastor' swings off church ceiling to portray Jesus' return (VIDEO)
The ministry is closer to US evangelical churches than the Anglican tradition and promises to "help you realise, release and walk into your financial freedom in Christ."
Eagle-eyed viewers thought they recognized Hayter but couldn't quite put their finger on it at first; and then came the deluge of outrage on Twitter once she was discovered to also work as an actor.
According to her online CV, Hayter has appeared as an extra in Star Wars: The Force Awakens (bartender), Wonder Woman (market stall holder), King Arthur (villager), Bourne (executive business woman) and even reaching the illustrious heights of Eastenders as a 'drunkard.'
The torrent of scrutiny and outrage forced the BBC to respond publicly.
Others felt people were losing the run of themselves and reminded the baying mob that preachers can seek gainful employment elsewhere at the same time as delivering 'the good word.'
While many questioned Hayter's credentials as a pastor, her political beliefs seem to be both genuinely held and staunchly conservative, given her support for Theresa May.
Think your friends would be interested? Share this story!
Via RT. This piece was reprinted by RINF Alternative News with permission or license.