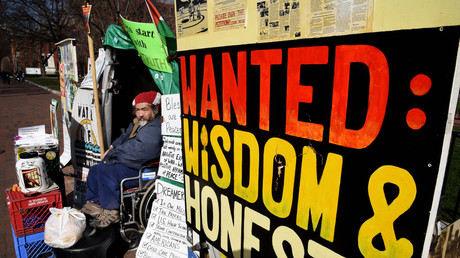 A video of a man shouting "Heil Hitler!" on a Brooklyn street sparked online debate about whether such speech is protected by the First Amendment; a similar act caused a man to be removed from a Baltimore theater on Wednesday.
In the video posted to Twitter, the man, who was reportedly arrested for his outburst, is seen repeatedly shouting "Heil Hitler!" at another man who is filming from his car – and who is reportedly Jewish.
Meanwhile, a man was escorted from a performance of the Jewish-themed "Fiddler on the Roof" play at Baltimore's Hippodrome Theatre after shouting "Heil Hitler, Heil Trump!" from a balcony, causing people to run, fearing that a shooting might take place.
The videos immediately sparked a Twitter debate about whether such offensive speech could be classified as free speech under the First Amendment of the constitution, or whether it should be punishable "hate speech."
Some were surprised that the Brooklyn man had reportedly been arrested for shouting the offensive words and making a Nazi salute, suggesting that, while it might be inappropriate, it was still the man's right to say whatever he wanted.
Others weren't so sure about whether "hate speech" was covered by the First Amendment, while some said the man in the Baltimore theatre could at least have been arrested for inciting fear and panic in a public place.
The incidents also sparked some debate about whether race was a factor in the Brooklyn man's arrest, with some claiming that if the video had shown a white man calling a black man a "n***er" he would not have been arrested, while others pointed out that the white man who made the same comment in the theater was simply removed from the room but not arrested.
While the First Amendment is widely understood to encompass any and all speech in the US –even highly offensive speech– it's a different story across much of Europe. In Germany for example, there are strict laws banning Nazi symbols and rhetoric.
But legal or not, such speech still regularly gets people into trouble in the US.
Earlier this year, Benjamin Frisch, a math teacher at a school in New York was fired after he inadvertently made the Nazi salute while demonstrating how to calculate angles with his arm, saying "Heil Hitler" in an attempt to laugh the incident off. Frisch later got his job back after it was ruled by an arbitrator that the incident didn't warrant his firing.
Like this story? Share it with a friend!
Via RT. This piece was reprinted by RINF Alternative News with permission or license.