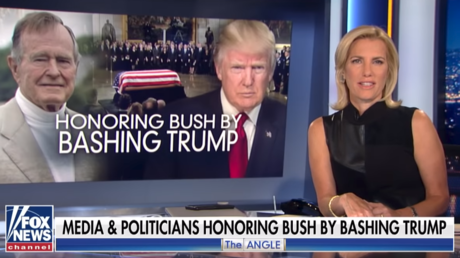 The death of former president George HW Bush was used to dig at President Donald Trump, thus reducing it to "a political battering ram," Fox News host Laura Ingraham believes.
Ingraham has shamed her colleagues, MSNBC's Nicolle Wallace and Mika Brzezinski, for pulling no punches in Trump-bashing at the time when the late Bush's casket was shown being paraded through the streets of Washington.
Brzezinski, who along her co-host Joe Scarborough, fell out with Trump even before he was elected president, for instance, predicted that Trump would try to "fake more respect" for the Bush family "whose unprecedented history of public service has repeatedly belittled" to go back to "making a mockery of the very office George Bush and the nation long revered."
Wallace was also not in a solemn mood while commenting on the procession of the Bush Snr. motorcade to Capitol Hill, as she lashed at Trump, saying that he had "debased" the presidency "in a way that's unimaginable for people who served the last president."
"They lack all sense of decency. They reduce a presidential death to just a political battering ram, like any other issue," Ingraham charged, as she pilloried her fellow cabal news hosts for their failure to contain their hard feeling towards Trump for a moment out of respect for the late president.
"But what you hear, if you listen closely, is the last gasp of an embittered establishment," Ingraham went on, calling out the establishment for apparently thinking that "the way to win them [voters] back is to belittle President Trump even during formal on-air eulogies and tributes."
"So rather than directing their anger at Trump, the establishment at both parties should be directing it at themselves for it is their policies that the voters turned against in 2016."
The bickering between the hosts has spilled on Twitter, where both Brzezinski and Wallace mounted counter-attacks. Wallace accused Ingraham of "sniping" at her instead of seeing off Bush, while Brzezinski accused Wallace of catering to Trump.
"You are as usual serving as the president's panderer. I'm not sure that ends very well but good luck!" Brzezinski tweeted.
If describing reality is sniping then ok .. but I'm not sure where you think this is going except REALLY badly. @NicolleDWallace is right on.. you are as usual serving as the president's panderer. I'm not sure that ends well but hey good luck! https://t.co/pPxkC6qJcA

— Mika Brzezinski (@morningmika) December 4, 2018
READ MORE: Late George H.W. Bush valued 'constructive dialogue' with Russia – Putin
Trump has been invited to Bush's Wednesday funeral service but is not expected to deliver a eulogy. Since the last US Cold War president's passing on Friday night at the age of 94, Trump has heaped praise on the Republican, even canceling his G20 press conference "out of respect" to the Bush family.
Wallace and Brzezinski were by far not alone in using Bush's death to take a swipe at Trump.



Also on rt.com
Oil tycoon, CIA chief, President: George H.W. Bush was the epitome of American empire




CNN host Don Lemon apparently could not come to terms with the Bush family's decision to invite Trump to the service.
"I do not understand why they want him to be here. You have your reasons, but again, I just… I would not want him," he said, while relishing the idea of seeing Trump being not invited despite reality being the contrary.
"That would be the biggest and better lesson to teach someone who is a bully. Sorry. Not invited."
Think your friends would be interested? Share this story!
Via RT. This piece was reprinted by RINF Alternative News with permission or license.