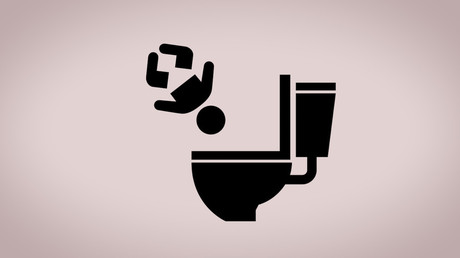 A mother of two is under investigation in Florida after a Facebook Live video of her dunking one of her children's heads in a toilet bowl was shared online, sparking a torrent of outrage and death threats.
Kaitlyn Wolf claims that she and her kids regularly "horseplay rough" and that the  'swirly' clip was taken out of context.
Right now DCF is looking into this video that was posted on Facebook. It shows a Leesburg mom, putting her 3 year old son's head in the toilet. She claims it was all a joke. pic.twitter.com/8EyPPaNKDW

— Myrt Price (@MPriceWFTV) September 3, 2018
"His head was never under the water, his face never got wet. It was maybe the top or this part of his hair," Wolf told WFTV. "It's scary to think I might lose my children over this – over a joke that we played."
The Leesburg Police Department issued a statement on Sunday, indicating that they had received multiple complaints about the video and that an investigation was underway in conjunction with the relevant child protective services.
"The incident is currently under investigation by the Department of Children and Families, and Detectives are also working with the State Attorney's Office to determine appropriate criminal prosecution," police said on Facebook.
Facebook, which has repeatedly come under fire for hosting disturbing content, posted a message alongside the video which reads: "This video may show violence against a child or teenager. We haven't removed it from Facebook because it may help rescue the child in question. To learn more about what you can do to help or find support, please visit the Help Center."
"I do not feel bad and I will not apologize for posting it whatsoever," Misty McCormic, the former partner of Wolf's partner said in an online video statement after reposting the original Facebook live video. "I do hope that the kids in the situation that were in the video get their justice and do get help."
READ MORE: Prankster lures men to New York square to compete in 'real life' Tinder
Wolf claims she has received a multitude of threats against her life and the backlash appears to be so intense that she has deactivated her Facebook account.
"It was just a game," Wolf told WFTV. "I didn't inflict harm on him. He didn't have any bruise or cuts. He was laughing during the video. Everybody just stop Facebooking me and telling me you want me to die," Wolf said. "I get it."
For her part, McCormic also claims that, since the posting the video online, she has lost her job and herself received death threats.
Like this story? Share it with a friend!
Via RT. This piece was reprinted by RINF Alternative News with permission or license.