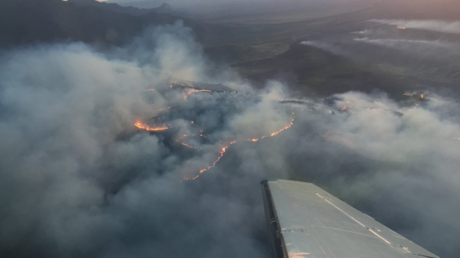 Shocking eyewitness footage released by the US Forest Service Monday shows how quickly viral internet trends can have devastating real-world consequences, even for something as mundane as a gender reveal party.
US Border Patrol agent Dennis Dickey, 37, of Tucson plead guilty to accidentally starting the April 2017 Sawmill Fire this past September. The fire scorched 45,000 acres in southern Arizona, reaching the Coronado National Forest, with 600 firefighters dispatched to battle the blaze which forced some 100 people to evacuate.
READ MORE: 'Cook turkey, not your home': Explosive fryer footage offers sage Thanksgiving advice (VIDEO)
It created an estimated $8 million worth of damage, but at least Dickey found out he'd be a father to a boy, right?
Dickey's particular take on the content-for-likes trope of hosting a gender reveal party that has been popularized across social media in recent years took things to the extreme: he built a target labeled 'boy or girl' and then loaded it with Tannerite, an explosive substance used by long-distance shooters.
Apparently he loaded the gender-revealing target with too much of the substance, however, as it exploded and spewed fire on the dried-out grasslands below, to the horror of onlookers.
Dickey was sentenced to five years' probation and ordered to pay $8.1 million in restitution; $100,000 up front with monthly payments thereafter.  
"I feel absolutely horrible about it. It was probably one of the worst days of my life," Dickey said.
Perhaps the constant one-upmanship when it comes to gender reveals should be kept to cake cutting or balloon releases, especially given the fact that some 80 people died and hundreds are still missing as a result of the latest wildfires in California.   
Think your friends would be interested? Share this story!
Via RT. This piece was reprinted by RINF Alternative News with permission or license.