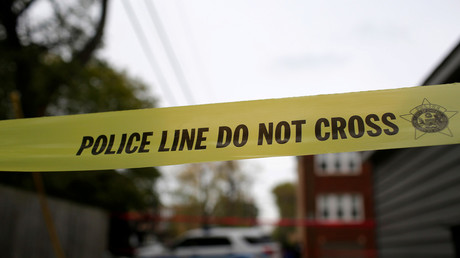 Florida police have defended the manner of their arrest of a 14-year-old girl in which a male officer repeatedly punched her in the side as she lay on the ground after allegedly resisting arrest at a Coral Springs mall.
Short video footage taken by a bystander shows the black teen being held face-down on the ground by a female police officer; a male officer kneeling on the girl's back punches her twice in the side. The clip was provided anonymously to the Miami Herald.
The Coral Springs Police Department issued a statement defending the officer's actions, saying the footage doesn't show the whole context of the incident, and claiming the teen was part of an unruly group that returned to the mall after being previously asked to leave for harassing other patrons. The police force also said the officer did not use excessive force, based upon the teen's "stature and aggressive behavior."
"Officers attempted to take her into custody, at which time she began to fight and resist arrest," the statement read.
READ MORE: White woman calls cops on black man cheering son's soccer game, goes viral as 'Golfcart Gail'
"Due to her stature and aggressive behavior, officers took her to the ground attempting to get her to release her fists. As seen in the video she resisted arrest, and in order to have her to comply she was struck in the side to release her clenched fists – she was then handcuffed."
The explanation wasn't enough for many angered by the footage and who responded to the police statement by questioning why two officers couldn't otherwise control an unarmed teenage girl.
"If you can't handle a 14 year old unarmed girl then you need a new job," wrote commenter Aaron Warren. "There are more professional ways to gain control than punching a girl," added a second, Philip Barrett.
READ MORE: White House chopper mechanic busted with crystal meth after calling the cops on himself
"This officer should be fired or suspended! Training should be required for all officers that are expected to assist in the matter of unruly kids," wrote social media user Beth Tharpe.
The teen's mother told local news outlet WWLP-22News that she has hired an attorney who says the footage shows that an officer used excessive force against the girl.
Think your friends would be interested? Share this story!
Via RT. This piece was reprinted by RINF Alternative News with permission or license.