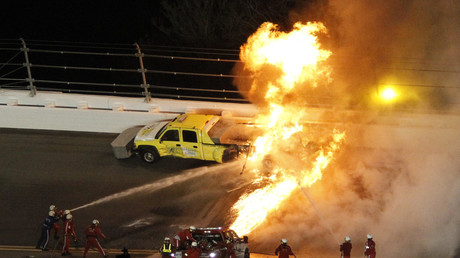 Dramatic footage shows the moment a NASCAR driver was pulled from flaming wreckage by his father after his car hit a wall and caught fire during a race at the South Boston Speedway.
The tense scenes unfolded at the NASCAR Late Model race in Virginia during Father's Day weekend.
Mike Jones was hoping to secure the lead in the race when a competitor's car hit his tire, causing his vehicle to spin out of control and bounce off the track walls.
As the car goes up in flames Jones' father and crew chief, Dean Jones, hops over the pit wall, rushing to his son even before rescue crews reach him.
Crowds can be heard cheering as Jones is rescued by his father from the fiery crash. "I didn't have time to be afraid. I had to get my son out of that car," Jones told WDBJ-TV.
"No one except sweet baby Jesus would have kept me from freeing my son from a burning race car," Jones said in a Facebook post.
Fire crews can be seen urging Jones off the track after the heroic rescue. Jones also had his NASCAR license removed following the incident for wearing shorts on the track, reported Racing News.Co.
Via RT. This piece was reprinted by RINF Alternative News with permission or license.