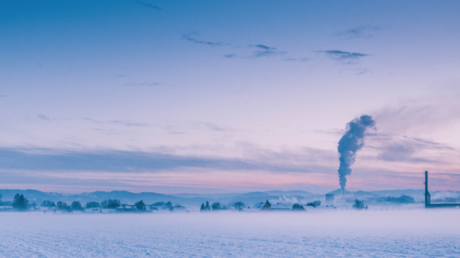 Residents in rural Nebraska are well acquainted with winter snow thanks to sub-zero temperatures but new information shows that at least some of the recent snowflakes are factory-produced.
The National Weather Service pinpointed the source of the unusual snowfall on Monday: two industrial power plants on the outskirts of Norfolk, Nebraska.
It's been confirmed that this snow band is originating from 2 plants in Norfolk. The steam produced there is essentially acting to add moisture and warmth to the clouds creating the snow. Had reports of large flake and up to 1in. If you live in that area how much have you seen? pic.twitter.com/mSiVcj6uH2

— NWS Omaha (@NWSOmaha) December 3, 2018
The man-made whiteout that lasted over 24 hours and created up to five centimeters (two inches) of snow in some parts.
Check this out. Here is a loop of the snow induced from the plants in Norfolk. This loop starts yesterday at 7am and goes through today at 7am. Watch as the snow finally blows off toward the east around 4am this morning. #newx#iawxpic.twitter.com/u1bxieigIJ

— NWS Omaha (@NWSOmaha) December 4, 2018
More specifically, a steel manufacturing plant and an ethanol processing facility are believed to be responsible for the miniature, localized 'industrial snow' storms.  
December in Nebraska: ponds at ends of fields after 1-2" of rain on partially frozen soil topped with a few inches of snow aided by the steam from nearby industrial plant. 🤷‍♂️ pic.twitter.com/TeZA4WeiH5

— Tyler Williams (@tylerw_unl) December 4, 2018
Clouds of steam and exhaust fumes emitted by the industries condense into crystals that form essentially man-made snowflakes. No, not that kind of snowflake.
READ MORE: No 'colonizing' or 'frontiers': Snowflakes alarmed by linguistic aspects of NASA Mars probe
"What's causing the snow to develop today is the addition of moisture… The atmosphere is currently at the perfect temperature for snow product," Brian Barjenbruch, a meteorologist with the National Weather Service told Motherboard.
"I think we're looking at pretty basic snowflakes," he added, rather disparagingly.
Think your friends would be interested? Share this story!
Via RT. This piece was reprinted by RINF Alternative News with permission or license.