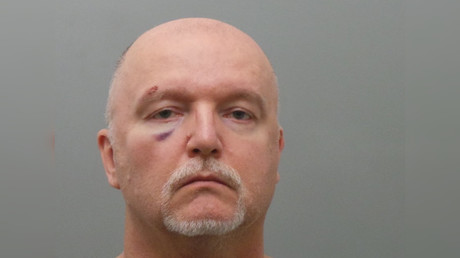 A former evangelical pastor known for his rants against gun control measures was charged with kidnapping, murder and sodomy after an attack at a Catholic supply store.
53-year-old Thomas Bruce of Missouri is facing 17 criminal charges after holding three women at gunpoint in a Catholic supply store in St. Louis, forcing them into a backroom and commanding them to perform 'deviant sexual acts', the St. Louis police said at a press conference. When one of the women failed to comply, Bruce allegedly shot her in the head.
The horrific attack occurred in the middle of the day on Monday, resulting in a two-day manhunt that ended with Bruce's arrest. Over 100 police also raided his residence, a trailer sporting a large 'don't tread on me' flag, searching for evidence.
Aside from having worked as a pastor, Bruce's LinkedIn page lists him as having been the manager of a Jewish community center as well as having studied the Bible and counseling at  Calvary Chapel Bible College. He had no previous criminal record but had recently filed for bankruptcy.
Ironically, his social media presence also includes numerous rants against 'criminals' and gun control laws. On his twitter, Bruce describes himself as a "Decorated Navy Vet & Trusty Shellback" and employes a #MAGA hashtag. Just last week, he made a post that reads: "We should stop expecting criminals to follow the rules. I'm hoping we end gun-free zones and put the criminals on notice that they will be stopped."
When asked if the state would pursue the death penalty, St. Louis County Prosecutor Robert McCulloch responded that while "the aggravating circumstances are certainly there," it will ultimately be the next prosecutor's decision, as McCulloch's term ends at the end of the year. He described the attack as one of the worst he had seen in his career, saying the crime had "shocked the senses".
Like this story? Share it with a friend!
Via RT. This piece was reprinted by RINF Alternative News with permission or license.