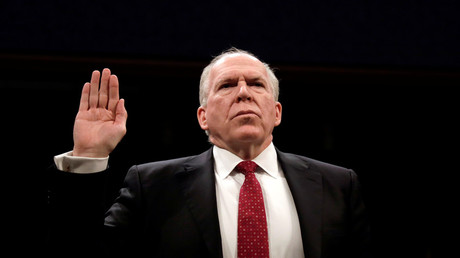 Senator Rand Paul called for former CIA Director John Brennan to testify about whether he received secret information on Trump's campaign from European or British sources. Paul wants him to testify before Congress under oath.
"BIG question for John Brennan, who has become such a vocal spokesman. Did you receive any secret info on candidate Trump or his campaign from European or British intelligence sources? Brennan should be brought before Congress & made to testify under oath, NOW!" Senator Paul tweeted on Thursday.
Serving as CIA Director under former president Barack Obama, Brennan has been accused by Trump of leading an effort to frame him for colluding with Russia in the runup to the 2016 presidential election. Trump has called Brennan "the genesis of this whole [Russia investigation] debacle."
Last month, the New York Times and Washington Post revealed that a secretive operation, codenamed Crossfire Hurricane, was conducted by the FBI from the summer of 2016. The counterintelligence operation was reportedly launched on the basis of intelligence received from overseas.
Veteran CIA agent and academic Stefan Halper acted as a confidential informant who tried to extract potentially compromising information from George Papadopoulos, Sam Clovis, Carter Page and other members of the Trump campaign. Papadopoulos later pled guilty to making false statements to the FBI.
The FBI's mandate is to conduct operations inside the US, while the CIA operates overseas. Since Halper met with Trump's campaign aides in London, Brennan's critics are curious if the CIA director had a hand in that operation, either on his own initiative or under orders from the Obama administration.
Since leaving the agency, Brennan – once a defender of the CIA's practices of torture and domestic spying – has become a darling of the liberal #Resistance for his frequent anti-Trump diatribes.
He did agree with the president on one thing, however: the appointment of long-time CIA employee Gina Haspel to lead the agency after Trump's first spy chief, Mike Pompeo, was reassigned to the State Department. Haspel was the CIA's station chief in London at the time of Halper's contacts with Trump's campaign staff. She testified in her confirmation hearings that the CIA never spied on Trump or received information from British intelligence. Senator Paul, who voted against Haspel's confirmation, cast doubt on that testimony in May.
Via RT. This piece was reprinted by RINF Alternative News with permission or license.