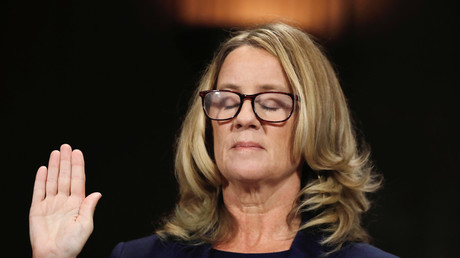 A statement provided to the senate by Christine Blasey Ford's ex-boyfriend has raised serious questions about the truthfulness of her sworn testimony, in the latest twist to the ongoing Kavanaugh confirmation saga.
Ford, the California professor who claims Brett Kavanaugh sexually assaulted her in high school, caused a national uproar with her testimony before the Senate Judiciary Committee, which is currently deliberating over Kavanaugh's confirmation to the Supreme Court.
BREAKING: Fox's @johnrobertsFox obtains letter from Ford ex-boyfriend alleging: dated for 6 yrs, never told of sex assault, Ford coached friend on taking polygraph, flew frequently w/o expressing any fear of flying/tight spaces/limited exits. Doesn't want to b/c "involved". pic.twitter.com/jVeW0qaJD0

— Shannon Bream (@ShannonBream) October 3, 2018
But in a written declaration leaked to the media on Tuesday, an unidentified ex-lover said that during their six-year relationship, Ford never exhibited any of the post-assault anxiety or fears that she detailed during her senate testimony.
Additionally, Ford's former partner said that he witnessed her coaching a friend on how to take a polygraph test – which, if true, would mean that she lied to prosecutor Rachel Mitchell, who asked specifically if the professor had ever "given any tips or advice to anyone who was looking to take a polygraph test."
Ford insisted that she had "never" done so, but her former boyfriend says that she used her background in psychology to help a friend who was preparing for such a test.
Ford apparently passed her own polygraph test, but Senate Judiciary chairman Chuck Grassley has demanded that her lawyers turn over all video and audio recordings of the procedure, as the ex-boyfriend's statement "raises specific concerns about the reliability of her polygraph examination results."
Whatever the polygraph testimony is about, it seems perfectly obvious that Grassley is right that the notes must be shared. It is wholly unjust for Ford to use them as evidence but refuse to share them with the people who are expected to accept their use as evidence.

— Charles C. W. Cooke (@charlescwcooke) October 3, 2018
The letter also raises doubts about Ford's slew of phobias. "To the best of my recollection Dr. Ford never expressed a fear of closed quarters, tight spaces, or places with only one exit," the former boyfriend wrote, adding that the pair had hopped between Hawaiian islands on a propeller plane without incident.
During her sworn testimony, Ford told the senate that she was afraid of flying, small spaces and buildings with only one exit – trauma that she attributed to her alleged assault some 30 years ago. He further noted that Ford had never mentioned Kavanaugh or the incident in question, adding that he had no ill-will towards his ex-girlfriend, and only wanted to "be truthful" about what he knew.
READ MORE: 'A lying slip-and-fall con artist' – Kavanaugh accuser savaged for TV interview
Meanwhile, statements from a separate Kavanaugh accuser, Julie Swetnick, have faced similar scrutiny from past lovers. A man who had a brief extramarital affair with Swetnick said that she enjoyed group sex and suffered from psychological issues. Swetnick claimed that Kavanaugh attended gang-rape parties in high school.
Like this story? Share it with a friend!
Via RT. This piece was reprinted by RINF Alternative News with permission or license.