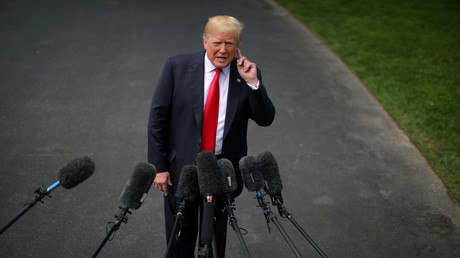 President Donald Trump has been criticized for his crackdown on the press as part of his obsession with leaks. The seizure of a New York Times journalists' communications further suggests Trump is no friend of the fourth estate.
New York Times journalist Ali Watkins had several years of email and phone records seized by federal prosecutors, it emerged on Friday. The unusual move, which the Times said was "an outrageous overreach," was part of a Justice Department investigation into a suspected leak from Senate Intelligence Committee aide James A. Wolfe.
Trump described Wolfe as being a "very important leaker," and said his arrest "could be a terrific thing." Wolfe was arraigned in court Friday on charges of lying to investigators about his contact with journalists. He has denied giving classified information to the media and isn't charged with doing so. Watkins is suspected of receiving information from Wolfe, who she was in a relationship with for three years.
Watkins learned about her communications being seized when she received a letter from the Justice Department in February which said records from two personal email addresses and a phone number had been seized. The communications date back to her time as a college student, and include the period she wrote for HuffPost, Politico, and Buzzfeed. The content of the emails is not part of the seizure, but details everyone she communicated with and when. Prosecutors were able to get her records from Google and Verizon.
News of the seizure drew anger from media rights groups and organizations. The Committee to Protect Journalists slammed the move as "a fundamental threat to press freedom" and said it sets a "dangerous precedent." A key part of a functioning media is the ability to protect sources.
"I'm a big, big believer in freedom of the press," Trump said on Friday, "but I'm also a believer in classified information."
Trump appears to be following in the footsteps of his predecessor, Barack Obama, who used the Espionage Act against more leakers than all previous administrations combined, and largely against those who gave information to the media.
Last August, Attorney General Jeff Sessions said the Department of Justice had already received almost as many "criminal referrals involving unauthorized disclosures of classified information" as had been received in the last three years. He also said he was reviewing rules about subpoenas and the media.
Trump has long had an almost obsession with leakers, as a number of embarrassing disclosures have exposed chaos in the White House, as well as comments like Trump referring to African nations as "shitholes."
The so-called leaks coming out of the White House are a massive over exaggeration put out by the Fake News Media in order to make us look as bad as possible. With that being said, leakers are traitors and cowards, and we will find out who they are!

— Donald J. Trump (@realDonaldTrump) May 14, 2018
The spotlight has finally been put on the low-life leakers! They will be caught!

— Donald J. Trump (@realDonaldTrump) February 16, 2017
For someone preoccupied with leakers, the president has been guilty of doing so himself. Last May, he told Russian officials about a classified ISIS plot which Israeli intelligence had shared with the US.
As President I wanted to share with Russia (at an openly scheduled W.H. meeting) which I have the absolute right to do, facts pertaining….

— Donald J. Trump (@realDonaldTrump) May 16, 2017
The US has fallen in the world press freedom index, dropping two places to 45th this year, continuing the downward trend experienced in the last few years. Trump is blamed for the decline, with the group citing his regular attacks on the "fake news" media and his efforts to restrict media access to the White House. The US also subjects reporters to searches at the borders.
The decision to extend Section 702 of the Foreign Intelligence Surveillance Amendments Act in January further threatens the media. The controversial section allows intelligence to target people outside the US for warrantless surveillance. Those targeted for surveillance under the act are often of interest to journalists, meaning their communications remain likely to be swept up as part of that surveillance. The US has used the act to target foreign journalists.
If you like this story, share it with a friend!
Via RT. This piece was reprinted by RINF Alternative News with permission or license.