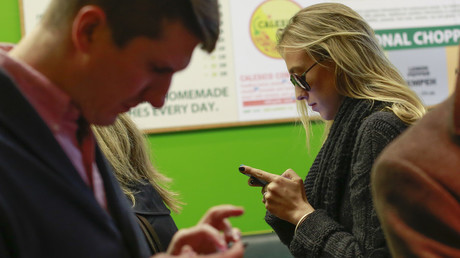 There are few things these days which unite liberals and conservatives, but according to a new survey, a growing dislike and distrust of social media companies is one of them.
Across the political spectrum, dissatisfaction with sites like Facebook and Twitter is growing – and growing quickly. An Axios survey conducted in November found that 57 percent of US adults felt that social media is damaging to society and democracy, up 14 percent from one year earlier.
When you break it down, Democrats, Republicans and Independents have all been souring on social media, with significant increases in the numbers dissatisfied seen across the three groups in the last year.
Republicans are the most likely to see social media as harmful, with 69 percent of respondents saying it did more to hurt democracy and free speech than to help it – up from 52 percent, while a smaller percentage of Democrats (48 percent up from 37 percent) said the same.
With numerous scandals plaguing the likes of Facebook and Twitter, the last couple of years have come as a moment of reckoning for CEOs like Mark Zuckerberg and Jack Dorsey.
Censorship or discrimination?
Perhaps most interesting, is that while Americans of all political viewpoints seem to be reevaluating the negative impacts of social media, liberals and conservatives are worried for different reasons.
While Republicans are suspicious that social media companies, which are often led by left-leaning executives, are censoring conservative speech and ideas (Twitter's shadowbanning of conservative figures, for example), Democrats believe that social media giants are too lax in what they allow to happen on their platforms, particularly when it comes to things like ad-targeting, which has been used to discriminate against minorities, women and older people. There has also been some growing concern on the left about censorship after socialist websites were targeted by Google and Facebook algorithms.
Among all adults surveyed, 55 percent said they feared that the US government would not do enough to regulate social media companies – a 15 percent spike from last year. But there is also significant worry that the government will go too far in restricting how social media companies operate, with Republicans (46 percent) more concerned about that than Independents (40 percent) and Democrats (37 percent).
Data breaches, bots and fake news
Frequent reports of massive data breaches, hacking and identity theft have also made Americans rethink social media and wake up to how vulnerable they really are online. In a Pew Research survey last year, the majority of Americans (64 percent) said they had already been the victim of a major data breach and increasingly, people are losing trust in both the government and social media websites to protect their private information.
While efforts by social media companies to combat so-called 'fake news' on their platforms have been applauded by many, it has also led to concerns about over-regulation and the pitfalls of social media companies working hand-in-glove with governments to decide what constitutes 'real' and 'fake' news.
Depression and anxiety
Another factor which could be playing its part in turning people off social media is the fact that it is making people lonely, depressed and anxious according to numerous studies. A Pew survey last year also found that 62 percent of Americans consider online harassment to be a major problem.
READ MORE: Smartphone overload may worsen teen mental health problems, study says
Melissa Hunt, the associate director of clinical training at the University of Pennsylvania psychology department, reported after a recent study, that "using less social media than you normally would lead to significant decreases in both depression and loneliness."
Via RT. This piece was reprinted by RINF Alternative News with permission or license.