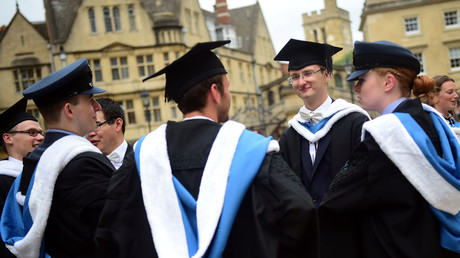 Labour MP David Lammy and Toby Young, the Spectator writer and free schools advocate, have rekindled their war of words on social media concerning the explanation to Oxford University's lack of black British students.
The online spat between the pair ignited in 2017 after Lammy, the MP for Tottenham, accused Oxford University of "social apartheid" over its admissions policies when they disclosed data showing that one in three Oxford colleges failed to admit a single black British A-level student in 2015.
READ MORE: 'Britain is not racist, Meghan Markle proves it' – argues white, Etonian, neocon Douglas Murray
The Oxford University-educated Young responded to Lammy's accusation with an article in right-wing publication The Spectator by insisting it was unfair to blame Oxford for the low numbers of black undergraduates.
He wrote the reason behind such statistics was because there were not enough black students achieving the required grades, claiming that the only way to change this was to "improve post-16 education, particularly in urban areas."
The man who by his own admission only required two B's and a C, plus a phone call from his father to get into Oxford, has had another dig at Lammy, with a series of tweets on social media to reignite their feud. Lammy has hit back with a jab at Young's own personal experience of getting into the elite university with help from daddy.
Like this story? Share it with a friend!
Via RT. This piece was reprinted by RINF Alternative News with permission or license.