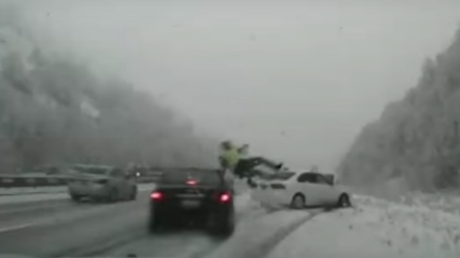 A dashboard camera caught a Utah Highway Patrol officer go airborne after he was struck from behind by a sliding vehicle on a snowy highway.
Sergeant Cade Brenchley was responding to multiple "slide-offs" in Sardine Canyon on Sunday, according to police, when he was struck by an out of control car that veered off the snow-covered highway.
The distressing footage shows Brenchley as he makes his way to help a vehicle that slid off the road, when an out-of-control second car strikes him from behind. The impact of the crash (at about 1:15 in the video below) sent the officer flying in the air before he came crashing down on the vehicle he was walking towards.
READ MORE: Mass pile-up on Ohio highway amid powerful snowstorm (VIDEOS)
Brenchley was transported to Logan Regional Hospital, where he was treated for broken ribs and a broken scapula.
"It's miraculous, though, that this is all I have, considering what we saw [on the video]," Brenchley said during a news conference at the hospital, where he is still recovering.
"When I watched the video, I had no idea that it was that hard," he said. "And yeah, I flew."
The Utah Department of Public Safety released the footage on Tuesday as a warning to drivers to "slow down and move over" when driving in treacherous weather. The driver of the vehicle, a college-aged woman, has apologized and visited Brenchley at the hospital, who said she's "not to be vilified."
"She did make a mistake, and I think she's learned from it," he said.

Via RT. This piece was reprinted by RINF Alternative News with permission or license.