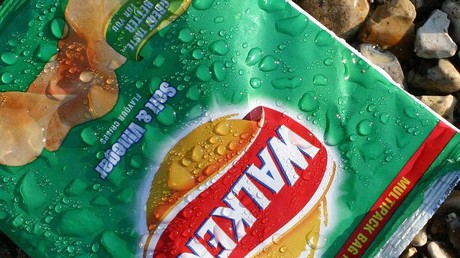 Royal Mail has pleaded with environmental campaigners to use envelopes when participating in the latest viral campaign, #PacketInWalkers, a concerted effort to shame crisp-maker Walkers for using non-recyclable packaging.
"We strongly encourage customers not to post anything into the postal system which is not properly packaged," a Royal Mail spokesperson said, as cited by Sky News. "Crisp packets can't go through the machines, they are not normal mail items, therefore my hardworking colleagues need to manually sort them, which adds to time."
READ MORE: 'One hell of a drug': Rapper blames 'Flamin' Hot Cheetos' binge for hospital visit
Royal Mail is obliged by law to deliver any and all crisp packets marked with the Walkers free-post company address. However, without envelopes, the crisp packets must be sorted by hand, grinding the snail-mail operation to an even slower pace. 
The campaign, organized by advocacy group 38 Degrees, has already gained traction on social media, especially as sustainability issues gain more exposure across international media, most notably the ban on plastic straws in various parts of the world and by multiple large corporations and institutions.
Why are people posting empty crisp packets back to Walkers? Because every day Walkers is making 11 million bags of crisps that will spend almost one hundred years in landfill, or worse end up in our oceans. It's time to #PacketInWalkers and ditch plastic before 2025

— 38 Degrees (@38_degrees) September 26, 2018
Following the plea from Royal Mail, 38 Degrees called on campaigners to use envelopes and focus on the real target of the letter lobbying effort.
"Walkers produce a staggering 7,000 plastic crisp packets a minute which they don't pay a penny to clean up. They need to listen to their customers and take action now," Cathy Warren, campaigner at 38 Degrees, said.
For its part, Walkers has pledged to make all of its packaging 100-percent recyclable, compostable or biodegradable, with pilot schemes already underway in the US, India and Chile, by 2025 – though campaigners remain somewhat skeptical.
Like this story? Share it with a friend!
Via RT. This piece was reprinted by RINF Alternative News with permission or license.