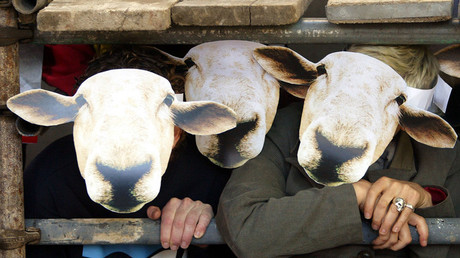 A social media furor has descended on ethical cosmetics company Lush, after it launched a campaign linked to an official inquiry into the conduct of undercover police officers, some of whom had sexual relationships with activists.
Set up in 2015, the undercover policing inquiry is investigating the infiltration of over 1,000 political groups in the UK since 1968 and the conduct of its undercover units.
Calls for the inquiry came after a number of cases came to light in 2010 in which police officers had maintained sexual relationships with members of animal rights and environmental groups they had infiltrated in the 1990s.
Undercover police officers have infiltrated the lives, homes, and beds of activists since 1968. Their roles were to infiltrate political groups and collect 'intelligence' about planned demonstrations and the individuals involved. 1/3 #SpyCopspic.twitter.com/llIfzNWGsv

— LUSH UK (@LushLtd) June 1, 2018
One officer, Jim Boyling, was dismissed for gross sexual misconduct while working undercover with the Met's Special Demonstration Squad between 1995-2000.
Another member of the demonstration squad, using the alias Christine Green, even continued living with her animal rights activist partner for more than 15 years after quitting the undercover job.
As part of their awareness campaign, Lush storefronts have been decorated with fake police tape emblazoned with the slogan: "Police have crossed the line."
READ MORE: Anti-frackers branded 'domestic extremists' like jihadists & Neo-Nazis in Prevent program
On social media, the company's Facebook and Twitter accounts feature video clips about the scandal, and have pictured a model whose appearance is split between being a police officer in uniform, and an undercover activist.
Postings about the campaign have used the hashtag #spycops.
The retailer, known for selling bath and cosmetics products free from animal testing, said their campaign aims to raise awareness of "the ongoing undercover policing scandal, where officers have infiltrated the lives, homes and beds of activists."
But rather than raising awareness, there has been an angry backlash on social media, with accusations that the company's latest "advertising campaign" is "anti-police," and have made calls for the shop to be boycotted.
The reaction to the campaign has been so negative from police-supporting citizens, Lush's once flawless 5 star rating has plummeted to 1.3 thanks to over 19,000 negative reviews, most posted in the last 24 hours. Twitter users have started using #FlushLush when commenting on the campaign.
Even Home Secretary Sajid Javid weighed in on the Lush campaign tweeting that it went against "hardworking police" and was "not a responsible way to make a point."
Never thought I would see a mainstream British retailer running a public advertising campaign against our hardworking police. This is not a responsible way to make a point https://t.co/dZqF3iMN6U

— Sajid Javid (@sajidjavid) June 1, 2018
Since the campaign went live, Lush reiterated that this is not an "anti-state/anti-police campaign."
In a statement posted on its website, Lush said: "We are aware that the police forces of the UK are doing an increasingly difficult and dangerous job whilst having their funding slashed. We fully support them in having proper police numbers, correctly funded to fight crime, violence and to be there to serve the public at our times of need."
Rather than being about front-line officers, it targets a "controversial branch of political undercover policing that ran for many years before being exposed," it added.
Think your friends would be interested? Share this story!
Via RT. This piece was reprinted by RINF Alternative News with permission or license.