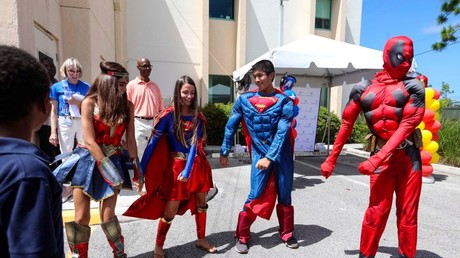 In Hollywood and comic-book land, Batman and co may regularly save the world from evil doers. But a new study suggests superhero good guys might actually be more violent than the people they've sworn to apprehend.
We've seen Marvel's Avengers go toe to toe with Thanos, the Caped Crusader take on The Joker and Deadpool blow away countless henchmen with a wry smile. But it seems that in order to do good, our favorite heroes must first dish out a whole load of punishment.
In a study involving experts in pediatrics, researchers found that the so-called 'good guys' might be having a pretty bad effect on children. Due to be presented at the American Academy of Pediatrics next week, the research focused on 10 superhero-based films released in 2015 and 2016.
READ MORE: Illegal immigrant dubbed 'Parisian Spiderman' to get honorary French citizenship
The sample analysis found that characters built up as the heroes in each fantasy yarn actually engaged in more violence than the brutal villains wreaking havoc on humanity.
Heroes carried out on average a total of 23 acts of violence per hour, with the baddies only engaging in vicious behavior an average of 18 times.
"Children and adolescents see the superheroes as 'good guys,' and may be influenced by their portrayal of risk-taking behaviors and acts of violence," said lead author Robert Olympia, Professor in the Departments of Emergency Medicine & Pediatrics at Penn State College of Medicine.
The full research is yet to be published. However, co-author John Muller, a researcher at Penn State, has offered up some indication of how people can mitigate the chances of their children seeing violence as acceptable.
"Co-viewing these movies as a family can be an effective antidote to increased violence in superhero-based films," he said.
"In passively co-viewing violent media, there is an implicit message that parents approve of what their children are seeing, and previous studies show a corresponding increase in aggressive behavior," Muller said.
READ MORE: 'Colombian Spider-Man' emulates web-slinging superhero in daring street show (VIDEO)
The study also classified the types of violence witnessed in its sample study, revealing that the most common was superheroes fighting, followed by the use of lethal weapons and the destruction of property.
If you like this story, share it with a friend!
Via RT. This piece was reprinted by RINF Alternative News with permission or license.