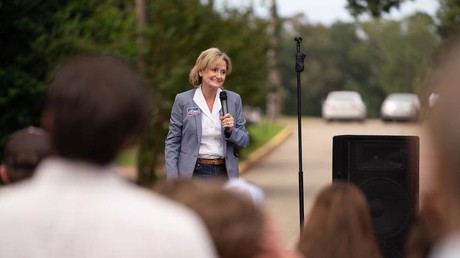 Mississippi Republican Cindy Hyde-Smith, who is facing a runoff Senate election against an African-American Democrat, has found herself in hot water after joking that she would sit in "the front row" at a public hanging.
A video tweeted by journalist Lamar White Jr. of the Bayou Brief shows Hyde-Smith standing alongside a supporter at a campaign event in Tupelo, where she was speaking to a small gathering of people. Referring to the supporter, the Republican senator says that if he "invited me to a public hanging, I'd be on the front row."
Jokes about public hangings don't tend to go down very well in Mississippi, though, given its grim history. There were 654 racially-motivated lynchings in the southern state between 1877 to 1950 — more than in any other US state.
The comment was arguably more problematic given that Hyde-Smith's opponent Mike Espy is the first African-American to win a Mississippi seat in the US House of Representatives since Reconstruction — and would be the first black person to represent the state in the US Senate, if he beats Hyde-Smith.
Many on social media immediately seized upon the comment as "racist" and insensitive "dog whistle" politics. Espy's campaign called the remark "reprehensible" and said it indicated that she "lacks the understanding and judgement" necessary to represent the state.
Explaining her remark, Hyde-Smith said it was simply "an exaggerated expression of regard" for her supporter and that "any attempt to turn this into a negative connotation is ridiculous."
Other Twitter users pointed out that Hyde-Smith's home town of Brookhaven was the scene of multiple lynchings throughout its history and suggested that invitations to public hangings were "probably" something that the senator's grandparents were "familiar" with.
Derrick Johnson, the head of the National Association for the Advancement of Colored People (NAACP) who is from Mississippi himself, said that the senator's decision to joke about public hangings "in a state known for its violent and terroristic history" toward African-Americans was "sick" and "shameful."
On Twitter, Johnson later said that Hyde-Smith's response to the controversy was "tone deaf and demonstrates disregard" for the state's history.
Hyde-Smith has held Mississippi's junior senate seat since April, after she was appointed to replace Thad Cochran, who resigned due to illness. Both she and Espy received 41 percent of the vote in the midterm election last week, but since neither candidate reached the required 50 percent, they will now face each other in a runoff election, due to be held on November 27.
The public hanging comments came just days after a nurse (and former police officer) was fired after being photographed wearing a 'Mississippi Justice' t-shirt featuring a Confederate flag and a noose to his polling place.
Think your friends would be interested? Share this story!
Via RT. This piece was reprinted by RINF Alternative News with permission or license.