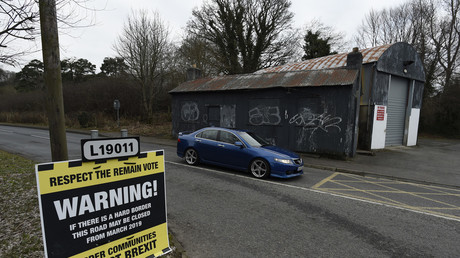 Brexit Secretary David Davis and UK PM Theresa May have been battling over the contentious issue of an end date for the govt's proposed 'backstop' solution to the NI border issue – concluding govt "expects" it to end before 2022.
Theresa May and Brexit Secretary David Davis have battled over the contentious issue of an end date for the proposed 'backstop' solution to the Northern Ireland border issue – concluding that they "expect" it to end before 2022.
The 'backstop' temporary customs arrangement [seen as the UK government's insurance policy for avoiding a hard border on the island of Ireland if trade talks break down] document was published soon after talks had concluded between the PM and Davis, revealing that the "UK expects the future arrangement to be in place by the end of December 2021 at the latest."
What is the backstop?
It's the UK government's fallback customs solution which means that if all other options fail Northern Ireland would ultimately remain in the customs union under current conditions.
It's the inclusion of the word "expects" that has created debate as to whether a time limit is being explicitly laid down by the UK government. Political commentators on social media have so far been unable to declare who came out the winner in the May-Davis showdown.
The New Statesman's Stephen Bush tweeted his cynicism that any time limit had been agreed. He says: "Not a time limit to say you "expect" something to happen. I expect there will be whole milk at the corner shop. It doesn't mean there will be."
Sam Coates, from the Times, seemed unconvinced that David Davis had clinched victory, tweeting that the Brexit Secretary "looks like he's accepted a carefully worded fudge".
It was rumored late last night that Davis was prepared to quit his role as Brexit Secretary over the issue, reportedly claiming that an omission of an end date to the temporary customs arrangement would give key EU officials such as Michel Barnier, the upper hand during crucial upcoming negotiations.
The PM held separate face-to-face meetings with pro-Brexit cabinet ministers, Foreign Secretary Boris Johnson and International Trade Secretary Liam Fox, supposedly in a bid to quell any concerns they had over the issue.
EU chief negotiator, Michel Barnier responded to the government's published customs plan, with a set of questions, suggesting a cautious approach to today's developments.
He tweeted: "I welcome publication of #UK proposal on customs aspects of IE/NI backstop. We will examine it with 3 questions: is it a workable solution to avoid a hard border? Does it respect the integrity of the SM/CU? Is it an all-weather backstop?"
Guy Verhofstadt, the European parliament's lead spokesman on Brexit, suggests the UK's Brexit backstop plan is not a 'workable solution'. "A backstop that is temporary is not a backstop, unless the definitive arrangement is the same as the backstop," he said.
Ireland's Taoiseach (prime minister) Leo Varadkar today dismissed the idea of a time-limited backstop, insisting such a temporary customs arrangement had to be an insurance policy for "all weather".
He told reporters in Dublin: "The principle that is in the existing backstop that is supported by the 27 EU member states is that it applies at least until there is an alternative in place. It is not something that can be just time limited."
The EU Withdrawal Bill comes back to parliament this Tuesday and Wednesday, with 15 amendments made by peers in the House of Lords to be debated over 12 hours. It will prove to be May's sternest test of authority yet, with Tory remainers and Brexiteers, agitating to drive through the Brexit they want to see being delivered for the UK.
Like this story? Share it with a friend!
Via RT. This piece was reprinted by RINF Alternative News with permission or license.