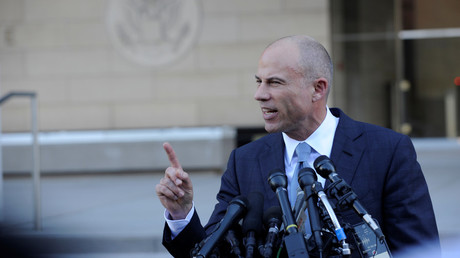 Michael Avenatti has followed through on a promise to name a third woman with misconduct accusations against Supreme Court nominee Brett Kavanaugh, but the timing before Thursday's confirmation vote has been slammed as political.
The lawyer, who represents adult film actress Stormy Daniels, said at the weekend that he had"significant evidence" that Kavanaugh participated in multiple gang rapes while in high school. On Wednesday, Avenatti released an explosive letter which he sent to Mike Davis, the Chief Counsel for Nominations on the US Senate Committee on the Judiciary. In it, Avenatti names the third woman as Julie Swetnick.
Swetnick claims that both Kavanaugh and his close school friend Mark Judge engaged in "highly inappropriate" conduct which included being "overly aggressive with girls". She also accuses Kavanaugh of being a "mean drunk" who made jokes "designed to demean, humiliate and embarrass" girls.
Most explosively, Swetnick claims Judge and Kavanaugh were part of a group that spiked drinks and got girls inebriated so that they could be "gang raped" by a train of boys. "I have firm recollection of seeing boys lined up outside rooms at many of these parties waiting for their 'turn' with a girl inside the room," she says in a sworn declaration. Swetnick also says she herself was a victim of one of the gang rapes and was "incapacitated without my consent and unable to fight off the boys raping me".
READ MORE: 'Cut off that pesky penis of his': Satire and reality blur as Kavanaugh debacle drags on
But the timing of the accusations, released by Avenatti just before a Senate Judiciary Committee vote which has been scheduled by Republicans for Friday, has raised some eyebrows. Nonetheless, reports suggest that the committee has responded to Avenatti and "immediately started looking" into Swetnick's claims.
Some on Twitter have dismissed Swetnick's claims as far-fetched, suggesting it was odd that she and others continued showing up at parties where they knew a gang of serial rapists were terrorizing girls.
Others have expressed total faith in Swetnick and praised her for coming forward.
National Security lawyer Bradley P. Moss tweeted that he had "no idea" if Swetnick is telling the truth, but noted that submitted a sworn affidavit carries with it "criminal liability" if she perjured herself.
While Republicans have suggested that the recent spate of allegations against Kavanaugh are politically motivated and designed to prevent him from being confirmed to the Supreme Court, Democrats have said they favor an FBI investigation into the accusations before Kavanaugh can be confirmed — something which Republicans say is just a delay tactic.
Responding to the new allegations, Kavanaugh said they were "ridiculous" and "from the Twilight Zone," adding "I don't know who this is and this never happened." The White House has stood firmly behind Kavanaugh since the allegations of sexual misconduct started to become public. On Twitter, Trump himself described Democrats' efforts to scupper Kavanaugh's nomination as a "con job" designed to ruin a good man. Trump also blasted Avenatti personally on Twitter, calling him a "third rate lawyer" who makes "false accusations" and is "looking for attention".
Via RT. This piece was reprinted by RINF Alternative News with permission or license.