Zero Hedge
February 9, 2019
Having started on Monday, the US Army continues its war drills across the greater Los Angeles metropolitan area through Saturday with the goal of enhancing Army Special Forces skills by "operating in urban environments", Army Special Operations Command said in a statement.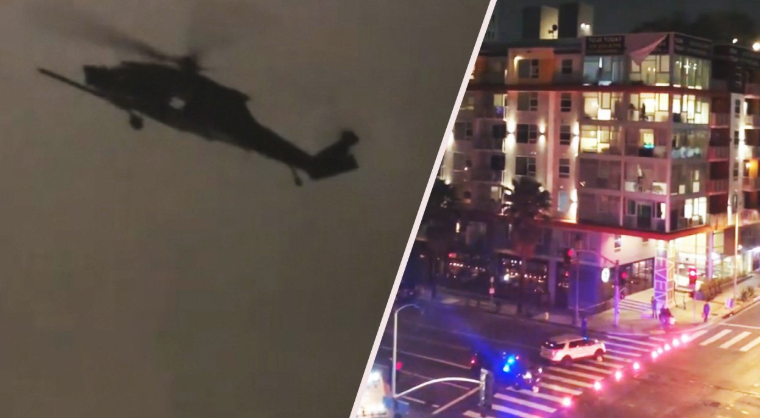 Residents around Los Angeles may hear sounds associated with the field training exercise, including helicopters and weapon simulations, according to the statement.
"The local terrain and training facilities in Los Angeles provide the Army with unique locations and simulates urban environments the service members may encounter when deployed overseas," the Army told CBS.
Downtown Los Angeles residents were shocked Monday night when a fleet of Boeing A/MH-6M Little Bird and Sikorsky UH-60 Black Hawk helicopters swooped in around them.
👀WTF is going on in downtown Los Angeles??? 👀 Multiple military helicopters landing on the street!!!#QAnon pic.twitter.com/jlUmBkfPRb

— Uche (@ThatsUche) February 7, 2019
A commercial parking lot across the street from the Regal Cinemas L.A. LIVE 14, at 1000 W Olympic Blvd, was the epicenter of some intense war simulations Tuesday night.
MILITARY EXERCISE: The U.S. Army is conducting military training in the greater Los Angeles and Long Beach areas tonight until Feb. 9. Downtown LA residents are reporting seeing helicopters and hearing explosions. @MizSkellington pic.twitter.com/8Mmgn2FdTK

— CBS Los Angeles (@CBSLA) February 5, 2019
Newchopper4 Bravo was overhead as Special Forces performed training exercises in the parking lot, then were extracted by helicopters before taking off over the 110 Freeway while police blocked nearby intersections.
Not every day that you see the @USArmy training in downtown LA and landing helicopters close to @STAPLESCenter and LA Live. https://t.co/mXi8qNpgKn pic.twitter.com/b7HvhwjO3V

— NBC Los…