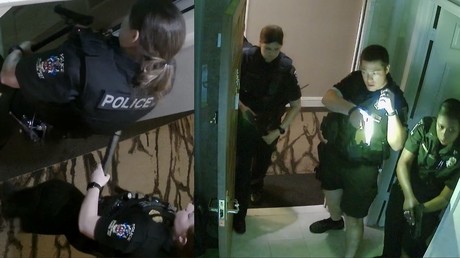 Armed police broke into Chelsea Manning's home after the former US Army private and whistleblower-turned-activist posted a photo on Twitter alluding to suicide.
Manning shared the details of the May 27 incident with The Intercept, along with security video from her Bethesda, Maryland, apartment. The footage shows three officers entering her home with their guns drawn, while a fourth points a taser. Police gained access after one of the officers opened the front door.
"This is what a police state looks like," Manning told The Intercept. "Guns drawn during a 'wellness' check."
Manning was out of the country when police responded to concerns from friends, prompted by two tweets that have since been deleted, implying that she was considering suicide. The procedure is known in the US as "wellness" or "welfare" check.
"If Chelsea had been home when these cops arrived with guns drawn, she would be dead," Janus Cassandra, a close friend who was on the phone with Manning that night, said.
"There is absolutely no excuse for sending armed police to the home of someone who is having a suicidal episode," said Cassandra. "As we've seen countless times, cops know that no matter what happens, they will be shielded from any accountability whatsoever."
This is so disturbing on so many levels, and not just because I was on the phone with @xychelsea while it was happening

Y'ALL: Police are violent. Police use force. If someone is having a suicidal episode, call a friend or neighbor

DONT. CALL. THE. COPS. https://t.co/XwxfbcqTiE

— 🏳️‍🌈 Janus Cassandra 🏳️‍🌈 (@zenalbatross) June 5, 2018
Montgomery County Police confirmed that the check took place after a number of calls from  "concerned parties." Captain Paul Starks said officers looked up Manning's address and used a master key to get into the building. When they realized she was not there, he said they tried to locate her by using her phone.
Starks said that the decision to draw weapons "depends on the officer" who "makes the decision based on circumstances that are affecting that officer in that specific situation."
"Do you know what was going on in that apartment that night? No. Not until you open the door and go in… We respond to hundreds of thousands of calls each year. Many of them are not what is phoned in," he said.
Mental health experts have raised concerns about the appropriateness of police performing welfare checks on vulnerable people. According to the American Civil Liberties Union, police have shot and killed at least 64 people who were suicidal or had other mental health issues so far this year.
Manning alarmed supporters when she posted tweets suggesting suicidal intentions. One tweet contained a photo that appeared to show her standing on the ledge of a building, captioned with the words "im sorry." The tweets were quickly deleted and she was confirmed safe.
** chelsea is safe. she is on the phone with friends, thanks everyone for your concern and please give her some space

— Chelsea E. Manning (@xychelsea) May 28, 2018
The former US Army private, who provided WikiLeaks with a trove of US government documents in 2010, had her 35-year sentence commuted by former President Barack Obama in December 2016. Earlier this year, she announced her bid to challenge the powerful incumbent Senator Ben Cardin (D-Maryland) in the November midterms.
Manning was sentenced in 2013 for leaking materials that exposed abuses committed by the US military in Afghanistan and Iraq. A day after the sentencing, Manning came out as a transgender woman. While in prison, Manning was repeatedly held in solitary confinement and attempted suicide at least twice. She was released from military prison at Fort Leavenworth in Kansas in May 2017.
Last week, a military court upheld her conviction, which she had appealed on First Amendment grounds. Manning's defense team have indicated they will now bring her appeal to the Court of Appeals for the Armed Forces, and all the way up to the Supreme Court if necessary.
READ MORE: Reps or Dems, all US govts are 'oppressive,' says Chelsea Manning
Via RT. This piece was reprinted by RINF Alternative News with permission or license.