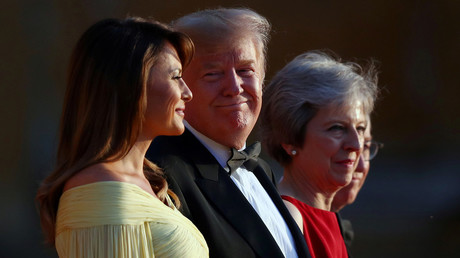 Donald Trump's reasoning has long been a mystery, fought over by others trying to work out the president's motives. Today, it was the turn of UK commentators to battle over why Trump slammed Theresa May's Brexit deal.
Was it 'America First' politics, did he copy what Nigel Farage said on Fox News, or was it a display of his infamous bad-deal detection skills? Either way, the UK prime minister will not be thanking Trump after he labeled her UK withdrawal deal as 'great for the EU.'
Sky News' Faisal Islam queried whether Trump had watched his old friend Farage on Fox and Friends – reportedly one of the president's favorite shows. The query was also made into a joke by the account of the BBC's 'Have I got News for You' show.
Trump's latest Brexit comments are comparable to those of Barack Obama in the lead up to the EU referendum. Then-president Obama, at the behest of David Cameron, said that the UK would "be at the back of the queue" should they require a post-Brexit trade deal.
Brexiteers, both MPs and their supporters in the media, repeatedly attacked Obama for 'interfering' in the referendum.
Though with Trump, the UK media has largely been muted in their criticism, perhaps a sign that they too share the president's reservations.
Trump, popular already among many in the Tory party, was hailed by some MPs for his intervention. Michael Fabricant MP tweeted that Trump's analysis was "spot on."
The editor of the right-wing Spectator magazine posted that Trump's comments amounted to an expression of "dismay" that "May's deal rules out proper free trade deals with new allies."
Nelson's assertion was challenged by trade expert David Henig, who argued that Trump's intervention was "pure politics," and an attempt to get the "UK to move from EU to US regulation."
Labour MP and ardent Remainer David Lammy echoed that position, warning that Trump "does not act like a UK ally" and that "he wants us isolated and vulnerable in future trade negotiations."
Whatever the reasoning behind Trump's comments, it's unlikely that May will be holding hands with him any time soon.
Like this story? Share it with a friend!
Subscribe to RT newsletter to get stories the mainstream media won't tell you.
Via RT. This piece was reprinted by RINF Alternative News with permission or license.