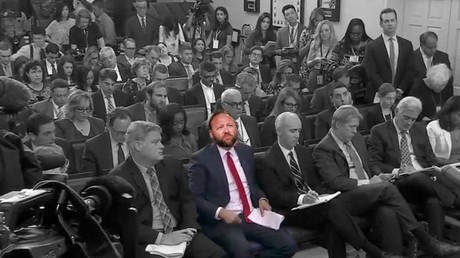 Deplatformed right-wing commentator Alex Jones is calling on his supporters to sign a petition to the White House, which seeks to give him credentials and a seat next to CNN reporter Jim Acosta.
Jones, whose media outlet Infowars was kicked off all major social media platforms this summer, may have a comeback as a White House correspondent. At least that seems to be the goal of an online petition on the "We the People" section of the White House site, which Infowars has reported on twice so far.
The petition was submitted on November 17 and says: "Let Alex Jones have press credentials and a permanent seat next to Jim Acosta!"



Also on rt.com
CNN victory or press defeat? White House restores Acosta's pass but imposes conduct rules




Acosta, who is famous for his aggressive style of questioning US President Donald Trump and officials of his cabinet, had his credentials suspended earlier this month, but a judge ordered him reinstated. The White House complied, but simultaneously ordered a code of conduct for journalists mandating one question at a time in apparent attempt to prevent verbal barrages from the journalist.
The White House online petition section first appeared seven years ago during the Obama administration. An official response is expected if in 30 days a proposition scores 100,000 signatures. As of the time of writing, the idea to sit Jones next to Acosta had about 43,000 supporters.
Reacting to petitions, however, is not legally required. There are 22 petitions qualified for an official response remaining unanswered, including one asking Trump to resign from office and another one declaring billionaire and political activist George Soros a terrorist. A freedom of speech-related petition asking for a law that would disallow banning users from social platforms created in late August has 127,430 signatures.
And even if the White House was willing to give Jones credentials, the decision where he would sit would be in the hands of the White House Correspondents Association, the Washington Times pointed out. Given Jones' explosive character and history of confronting the CNN and Acosta personally, it's safe to bet they would be kept as far apart as possible.
If you like this story, share it with a friend!
Via RT. This piece was reprinted by RINF Alternative News with permission or license.