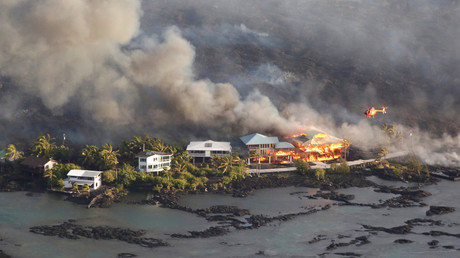 New aerial footage shows the Hawaiian neighborhood of Vacationland has been consumed by lava as devastating volcanic eruptions continue to destroy homes on the Big Island.
The footage, released by the US Geological Survey (USGS) on Wednesday, shows enormous destruction in the Vacationland area and nearby Kapoho, with only a few structures remaining following the eruption of the Kilauea volcano.
Kilauea erupted on May 3 and has been continually spewing lava since, with experts unable to estimate when the explosive bursts might end. The constant creeping wall of molten rock (measuring 10 to 15 feet) is leaving a path of complete destruction in its wake, and has destroyed at least 400 homes over the past month.
READ MORE: Giant acidic steam clouds rise from ocean after lava spill in Hawaii (VIDEO)
"Vacationland is gone, there's no evidence of any properties there at all," said Wendy Stovall, a volcanologist with the USGS to reporters. The latest toll of property loss now far surpasses the 215 structures destroyed cumulatively over the past 35 years of Kilauea's last eruption cycle.
On Monday night, the USGS released more incredible footage of huge steam clouds rising from the Hawaiian ocean after the lava flow reached the sea at Kapoho Bay. Huge plums of dangerous acidic fumes, known as 'laze,' billowed from the ocean and filled the shallow bay in the footage filmed from a USGS helicopter.
READ MORE: No, it's not safe to roast marshmallows over Kilauea volcano, in case you wondered

Think your friends would be interested? Share this story!
Via RT. This piece was reprinted by RINF Alternative News with permission or license.