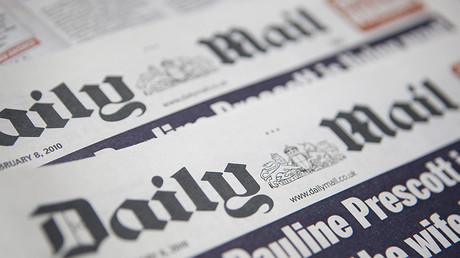 Infamous Daily Mail editor Paul Dacre confirmed he will step down – and while his career has been dogged by controversy, he's also been at the helm for some pretty wild headlines. Here are some highlights (or even lowlights).
ENEMIES OF THE PEOPLE
The staunch Eurosceptic has previously denied that he uses his paper to push an agenda dictated by his own views or feelings. With that in mind, emblazoned across the November 4, 2016 edition are the faces of the three judges who ruled that the UK Government would require the consent of Parliament to give notice of Brexit.
Theresa May says she wants to get rid of abuse in politics & has a vision to do that. Well her vision can't be that good then as the man who wrote the headline calling judges "the Enemies of the People" is her Press Secretary pic.twitter.com/iCNc7ImCVL

— The Pileus (@thepileus) February 6, 2018
The headline branding them as traitors was widely criticized as being inappropriately condemnatory and attracted over 1,000 complaints to the Independent Press Standards Organisation, given that the British judiciary system is independent of the Government.
The front page story was written by then-political editor Jack Slack. By February 2018, Slack was appointed as Prime Minister Theresa May's official spokesman. Curious.
MIGRANTS: HOW MANY MORE CAN WE TAKE?
Ahh! Refugees from war-torn lands are taking over the UK, or so the Daily Mail would have you think.
BREAKING: Paul Dacre, close friend of Theresa May, is to step down as Daily Mail editor after 26 years. Good riddance

Here is a selection of his racist and xenophobic front page headlines to remember him by pic.twitter.com/NI3E54hVMm

— Socialist Voice (@SocialistVoice) June 6, 2018
There isn't one specific headline here to look at – there is a veritable bus-load. Headlines like "The 'swarm' on our streets" and "Migrants: How many more can we take" do nothing but try to pit the British public against immigrants – who very may well be escaping from a bombed city within which they physically have no home to actually return to – by making them seem like they are a "toll" on UK life… or an influx of jihadists here to wreak havoc on UK streets.
VILE PRODUCT OF WELFARE UK
Britons on welfare are clearly just a bunch of crims, right? Well that is what the Daily Mail would have you believe. By rooting out the story of one man who "bred" – yes, like a dog – 17 babies to five women in order to "milk" the benefits system. According to the Daily Mail's April 3, 2013 front page, he was guilty of killing six of those children.
What a horrible thing to happen. Tragic for those children – but for thousands on welfare struggling to make ends meet, is it really justified to tar them all with the same brush? The Daily Mail seems to think so.
NEVER MIND BREXIT – WHO WON LEGS-IT?
Imagine this: having your morning cuppa with your toast in the back garden… staring at Nicola Sturgeon and Theresa May on the front page of the paper. Instead of a story about an important geopolitical matter… it is about their legs. Nothing like some casual sexism to start off the day.
"It wasn't quite stilettos down, but there was a distinctly frosty atmosphere when Theresa May met Nicola Sturgeon yesterday," the remarkably sexist caption reads. Who thought two world leaders could be watered down to the type of heel on their shoes? Everyone, apparently, as these types of headlines are no surprise.
IS THERE NO ONE LEFT IN BRITAIN WHO CAN MAKE A SANDWICH?
Here we have a story that expertly combines the Daily Mail's hate of migrants AND some casual sexism on the side. It seems a sandwich company in 2014 wanted to "recruit hundreds of workers from Eastern Europe because no Britons will do the job" – have they asked all of those people the Mail accused of milking the welfare system? Perhaps they can find some local workers there.
Anyway – sitting next to it is a lovely pic of the Duchess of Cambridge looking exasperated. At first glance, is the Daily Mail inferring that Kate can't make a sandwich? Going by the usual sexist diatribe peddled by the paper, one would think they would suggest that women actually belong in the kitchen, not struggle with making sandwiches. Maybe this was just a case of lazy layout planning… but we're betting that's probably not the case.
Think your friends would be interested? Share this story!
Via RT. This piece was reprinted by RINF Alternative News with permission or license.