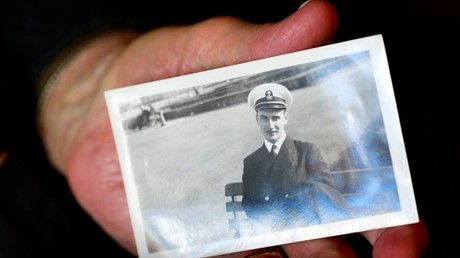 Bob Barger, a decorated US naval aviator, has finally received his college degree, some 68 years after he took his final class. This may make the 96 year old the oldest college graduate in the world.
The University of Toledo, Ohio, has awarded an associate degree to Barger who dropped out of college before his graduation, but had enough credits to earn his degree. He joined more than 3,000 graduates in a commencement ceremony on Saturday and received a standing ovation as he accepted his award.
Barger returned home to Toledo in 1946 after serving in WWII. He enrolled in the University of Toledo but later became distracted by work and family and never completed his degree.
Barger had been a pilot in the Navy, enlisting after seeing an advertisement that said "join the Navy and get an education." He flew seaplanes for scout observation over the Gulf of Mexico and was a flight instructor at a base in Corpus Christi, Texas.
After the war he was stationed at Norman, Oklahoma, where he experienced an explosion in a bunk house. Barger wasn't hurt but changed his mind about a career in the military after carrying out his wounded comrades.
A chance encounter with Haraz Ghanbari, the Director of Military and Veterans Affairs at the university, led to a review of Barger's transcripts and the discovery that the nonagenarian had had enough credits to qualify for an associate degree, which hadn't been available previously.
"Miracles don't normally happen to old men. I guess I ran into one," said Ghanbari. It's believed Barger is the oldest graduate in the history of the school and possibly beyond that.
The current Guinness World Record holder for oldest college graduate is a 96 year-old Japanese man, Shigemi Hirata, who earned his degree in 2016. Previously, Kansas woman Nola Ochs held the honor, after she graduated college in 2007 at the age of 95.  
Via RT. This piece was reprinted by RINF Alternative News with permission or license.