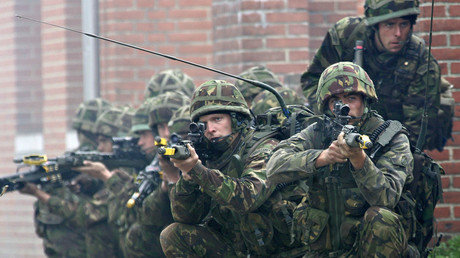 Royal Marine Ciaran Maxwell, who was detained in connection with alleged dissident republican terrorism on Wednesday, was so badly beaten by a loyalist gang when he was aged 16 he suffered a fractured skull, it has emerged.
Details of his beating at the hands of loyalists came out as the marine was interviewed in connection with a cache of weapons and explosives found near his County Antrim home.
According to a 2002 report sourced by the BBC from Irish paper An Phoblacht, Maxwell – a mixed Protestant-Catholic raised in the loyalist stronghold of Larne – "was hit by iron bars and golf clubs and suffered a compound fracture of the skull as well as other injuries to his head, face and body."
Allegedly, "a British Army patrol arrived but did not intervene and drove off, leaving Kieran to his fate."
Maxwell, 30, who has a girlfriend and a young child, was detained in South Devon on Wednesday. It is thought the weapons were found by members of the public who alleged they belonged to dissident republicans.
A local person claiming to be a family friend said Maxwell, who is an Afghanistan war veteran, came from a "respectable" family.
"Larne is not like parts of Belfast or some of the divided towns in Northern Ireland like Portadown. There are no Catholic enclaves in Larne, which is Protestant and loyalist dominated," the anonymous individual told the Guardian.
"Catholics over the years had to integrate and some through generations served in the British military. There have been chairmen and senior officials in the local British Legion for instance from the Catholic community here."
A security source in Belfast told the paper the arrest followed an operation to recover two deadly Claymore anti-personnel mines stolen from a military base.
"Everyone was involved in this operation including the Security Service's listening station at GCHQ in Cheltenham to MI5 regional headquarters based in Northern Ireland, the PSNI and the Metropolitan Police's counter-terrorism command," the source said.
"The mines were the key to tracking down where they came from and creating a trail of suspects," the source added.
Via RT. This piece was reprinted by RINF Alternative News with permission or license.