Kurt Nimmo
Infowars.com
July 3, 2013

Earlier this week, Facebook faced criticism for removing a post written by Fox News radio personality Todd Starnes.
"I'm about as politically incorrect as you can get. I'm wearing an NRA ball cap, eating a Chick-fil-A sandwich, reading a Paula Deen cookbook and sipping a 20-ounce sweet tea while sitting in my Cracker Barrel rocking chair with the Gather Vocal Band singing 'Jesus Saves' on the stereo and a Gideon's Bible in my pocket. Yes sir, I'm politically incorrect and happy as a june bug," Starnes wrote.
Following a spate of complaints, Facebook relented. "As our team processes hundreds of thousands of reports each week, we occasionally make a mistake. In this case, we mistakenly removed content from the Todd Starnes Page, and worked to rectify the mistake as soon as we were notified," a Facebook statement on the situation reads.
Complaints about other Facebook pages, however, have not resulted in take-downs. For instance, pages calling for the murder of George Zimmerman and one urging riots if he is not guilty in the murder of Trayvon Martin.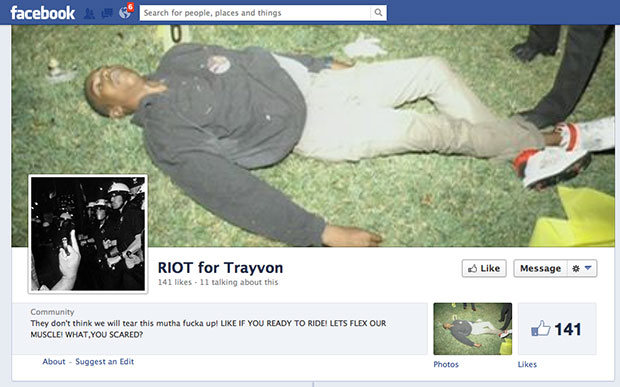 "They don't think we will tear this mutha fucka up! LIKE IF YOU READY TO RIDE! LETS FLEX OUR MUSCLE! WHAT, YOU SCARED?" the "About" page on the RIOT for Trayvon Facebook page states.
Another Facebook page is simply titled "Kill george zimmerman bitch azz." It is currently closed, so the page content is not viewable.
Facebook apparently operates under a double standard. A Fox News radio host is removed for making a politically incorrect joke while people who say they want to commit murder and incite rioting are allowed to stay.
In fairness, however, it should be noted that only a small number of people actually "like" the pages. This does not excuse the fact that Facebook continues to use its terms of service as a weapon against political activists, especially on the so-called right.
It does not help when idiotic actors like the socialist Roseanne Barr call for arming teenagers and regretting that Martin had not killed Zimmerman. Barr had earlier violated Twitter's rules when she tweeted home address of George Zimmerman's parents. She subsequently deleted the tweet, but despite the damage the popular micro-blogging site did not close down her account.
<!–
–>
This article was posted: Wednesday, July 3, 2013 at 3:01 pm
---
---
---
---
<!– this is where we need to show the related articles
–>
Republished with permission from: Infowars