Prime Minister, David Cameron, is facing a huge challenge to keep the Conservatives together ahead of his crunch speech on Britain's relationship with the EU.
Tory Europhiles have launched a fightback against demands for an in-out referendum. Cabinet minister Ken Clarke is to share a platform with Labour peer Lord Mandelson later this month to stress the benefits of remaining in the union. Cameron is facing opposition from Tory Europhiles
The move comes after fellow Conservative "Big Beast" Lord Heseltine warned that the economy would suffer if Cameron took a "punt" and committed to a national poll on membership.
Around 20 Tory MP have also apparently signed a letter, due to be published this week, warning of "massive damage" if the UK leaves the EU.
Rumours are swirling that Downing Street has given tacit approval to efforts to highlight the dangers of an exit.
In an unusual intervention last week, senior US diplomat Philip Gordon openly stated that America wanted Britain to remain in the EU.
Prominent business figures including Sir Richard Branson and PR guru Roland Rudd have also spoken out about the potentially dire consequences of severing ties.
Sources told the Mail on Sunday that Cameron believes it is "mad" to think that Britain can go it alone.
And Tory backbencher Robert Buckland, who has organised the pro-membership letter, said he had been informed that Number 10 regarded his efforts as "helpful".
"There is a silent majority out there who do not want Britain to leave the EU," he told the MoS.
"The danger for the Tories is that because the Right-wing Eurosceptics are making the most noise, we could slide towards the exit door of the EU."
Buckland added: "I have been told No 10 views my efforts as being helpful. The Prime Minister is a Eurorealist. He wants us to stay in the EU while having a debate about the terms of our membership, but it must not be used as a Trojan horse to get us to leave."
According to the Observer, Clarke and Lord Mandelson are spearheading a new organisation, the Centre for British Influence through Europe (CBIE).
The group, due to launch at the end of the month, will apparently support a cross-party "patriotic fightback for British leadership in Europe".
CBIE director Peter Wilding, a former Conservative Party spin doctor, told the newspaper: "We would argue – and many in the Tory party would agree – that disengagement from Europe is profoundly contrary to Britain's national interests."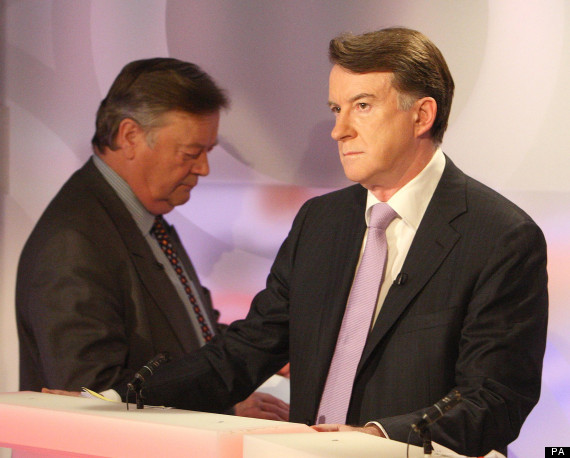 Mandelson and Clarke are hoping to halt the push away from Europe
However, Tory Eurosceptics are determined to maintain pressure on Cameron, buoyed by Chancellor George Osborne's recent comments that the UK can only stay in the EU if it changes.
A poll today suggested that Cameron could see off the rising political threat from Ukip by promising an in-out referendum in his speech.
Research by ComRes for the Sunday People found that 37% of Ukip supporters would desert the party if that pledge was made.
Nearly two-thirds of those quizzed wanted a national vote on whether Britain should remain in the EU.
Some 33% said they would cast their ballot in favour of a full withdrawal – including two thirds of Ukip supporters, 27% of Tories, 25% of Labour voters, and 17% of Liberal Democrats.
However, more people – 42% said they were against leaving the EU.
There were also signs that opposition to the union has softened, with the proportion who think there should be a referendum dropping from 68% in October 2011.
At that time 37% wanted to exit the EU altogether.
Meanwhile, the Fresh Start Group of Tory MPs is set to demand that swathes of powers covering crime, justice and policing are clawed back from the EU.
In a manifesto being published on Wednesday, it will call for the repatriation of more than 130 powers which it claims are vital to retain "national democratic accountability", protect British interests and resist the rise of the EU superstate. Heseltine voiced his concern on Saturday over Britain's increasing isolation from Europe
Conservative MP Andrea Leadsom, co-founder of the Fresh Start Group, told the Sunday Telegraph: "The proposed reforms in policing and crime are representative of the new relationship the Fresh Start Project supports for the UK in the EU. Effective cooperation without ceding democratic control.
"The status quo in the EU is no longer an option. Returning powers to member states is not an impossible task."
Labour leader Ed Miliband ruled out promising a referendum on Britain's relationship with Europe before the future shape of the EU was clear.
He told the BBC's Andrew Marr Show that the way Cameron was handling the situation was "incredibly dangerous".
"I think he is essentially sleepwalking us towards the exit door of the EU," he said.
"The last thing we should do is start saying for some date five, six, seven years hence, let's decide now to have an in-out referendum."
Miliband went on: "As Michael Heseltine said very well yesterday… that means you are having a referendum on a negotiation that has not yet begun, with a timescale that is uncertain and an outcome that is unknown. That is an incredible gamble.
"We know why this is happening. He is worried about the threat from Ukip and he is worried about what is happening in his own party.
"It is the wrong thing to do. It is not in the national interest."
Miliband added: "The question for now is should we have a referendum, should we commit to a referendum, should we promise one. I'm saying very clearly to you, no is the answer."
Liberal Democrat Chief Treasury Secretary Danny Alexander said Britain's national interest had to trump party political difficulties.
He also insisted that no "responsible" politician should be contemplating exit from the union.
"Of course there are difficulties on Europe in different political parties," he told Sky News' Murnaghan programme. "But in the end it is our national interest, our national interest in terms of our economy and jobs and society that has to come first in any approach."
Alexander went on: "It was Margaret Thatcher who led the foundation of the European single market which is very important to British business and British jobs.
"That is why we have seen a lot of business leaders over the last last few days coming out very strongly and saying they want to see Britain's place in the EU maintained."
Alexander said there were "many reasons why Britain is an attractive place to invest".
"But it is clear that for many sectors for many investors our place in the European single market, our participation as a leading member of the EU is part of that mix," he added.
"I just think that any responsible British politician should not be contemplating British exit from the EU given how serious the consequences should be."
He insisted Cameron had been "very clear he does not want Britain to leave the EU".
:: ComRes interviewed 2,059 adults online between December 19 and 21. Data were weighted to be representative of all adults. The Ukip voter sample size was 304.